Taka falls against dollar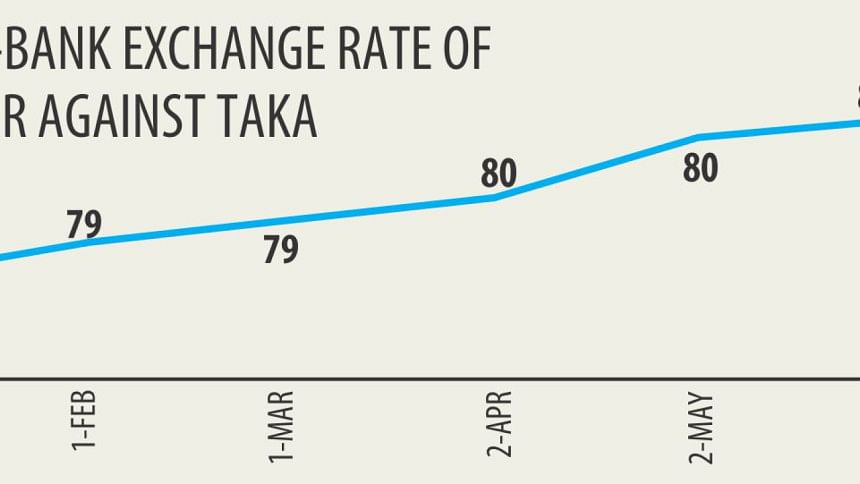 The taka depreciated by 2.41 percent in the last six months due to slower remittance and export and higher imports.
The inter-bank exchange rate of the greenback rose to Tk 80.60 in June from Tk 78.70 at the beginning of January, according to Bangladesh Bank figures.
Weak remittance inflow and moderate export growth have contributed to the depreciation of the local currency, said a senior economist of the central bank.
Moreover, import saw a significant rise riding on expanding economic activities, squeezing the dollar supply in the market, he said.
However, there is no negative impact of the depreciation as the fluctuation of the dollar price was expected, the BB economist said.
The current upward trend of the dollar will come as a boon for remitters and exporters. BB has stopped buying the dollar from the market for several months now, as there has not been ample supply of the currency.
The letter of credit remained stable at Tk 81.10 to Tk 81.20 per dollar last week, according to Bangladesh Foreign Exchange Dealers' Association.
The inter-bank exchange rate had maintained upward trend for several months thanks to rising import payments.
Imports rose 11.73 percent to $36.22 billion in the July-April period of the current fiscal year compared to $32.42 billion in the same period a year ago, BB data shows.
In April, the LC rate saw a sudden hike of 3.49 percent to Tk 83.66 against the dollar. It cooled down after the central bank intervened by putting a cap.
Meanwhile, exports grew only moderately by 3.93 percent to $28 billion in the first 10 months of the current fiscal year, compared to the same period a year ago. The export growth was 9.72 percent in the July-April period of last fiscal year.
Similarly, remittance inflow dropped 14.18 percent to $11.5 billion in the first 11 months of the current fiscal year.