Tag private sector with SDG implementation: analysts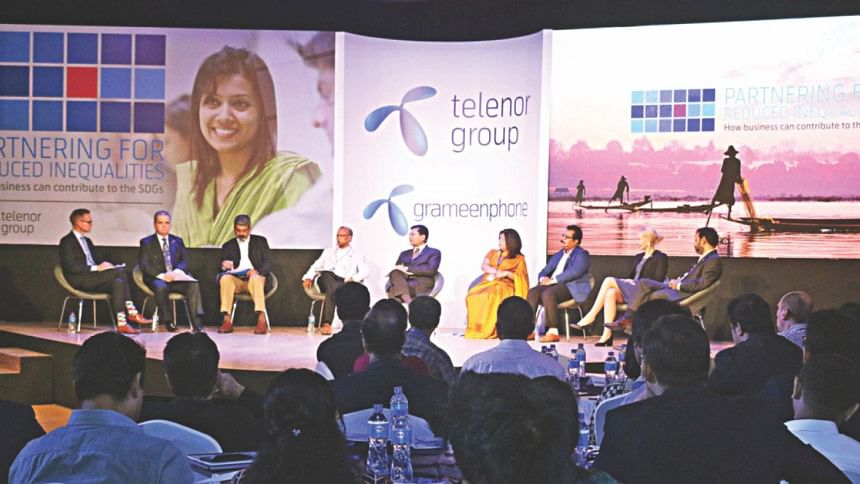 Participation of the private sector is a must for the implementation of the Sustainable Development Goals (SDGs), analysts said yesterday.
They spoke at a discussion titled "Partnering for reduced inequalities: How business can contribute to the UN SDGs", jointly organised by Grameenphone and Telenor Group at the former's office in the city.
The private sector is doing 78 percent of the development work in Bangladesh, so it is impossible to ignore the private sector in efforts to achieve the SDGs, said Fakrul Ahsan, project adviser and SDG lead at United Nations Development Programme (UNDP) Bangladesh.
He said UNDP has created a platform to bring both public and private sectors together, so that they can discuss their needs and adjust the policies that are required for further development of the country.
The whole Bangladesh is not progressing at the same pace, said Thomas George, programme manager and coordinator at UNICEF Bangladesh.
"SDGs should be adopted according to local needs."
The country's development hinges on the efforts to bring more foreign direct investment and create more jobs, said Rupali Chowdhury, president of the Foreign Investors' Chamber of Commerce and Industry.
"We have many success stories which need to be told and the local and foreign investors in this country can tell these stories to attract more investment," she said.
She felt that the government should be more transparent while dealing with the investors and the policies need to be more consistent; otherwise, the country would not be able to attract the needed investment.
Identifying that the needs of the private sector are important for development, Asif Saleh, senior director for strategy, communication and empowerment at Brac, said Brac is working to create skills that are needed for future development.
Ananya Raihan, CEO of D-Net Bangladesh, opined, "Resource allocation should be more streamlined and private entrepreneurs should have better access to government resources so that they can participate in the development process."
Grameenphone CEO Michael Foley said, "As a technology company we need to create more opportunities for people and entrepreneurs to face the new realities of the market."
There is no point in being a large service provider when people do not have work, he said.
Anir Chowdhury, policy adviser to the Access to Information Programme, welcomed the private-public collaboration.
He suggested participation of the private sector could bring more accountability to development activities.
"Private sector works for a return on investment so they are more efficient and vigilant about resources than government."
Grameenphone and Telenor Group have decided to focus on SDG 10 -- Reducing Inequality. They want to play their role primarily by providing access to information and digital services.
Mai Oldgard, head of sustainability at Telenor Group, presented the company's vision for implementing the SDG 10.    
At the discussion, Abul Kalam Azad, convener of the SDG Implementation and Monitoring Committee, sent a video message expressing the need for public and private collaboration in achieving SDGs.