Summit powers up project with foreign funds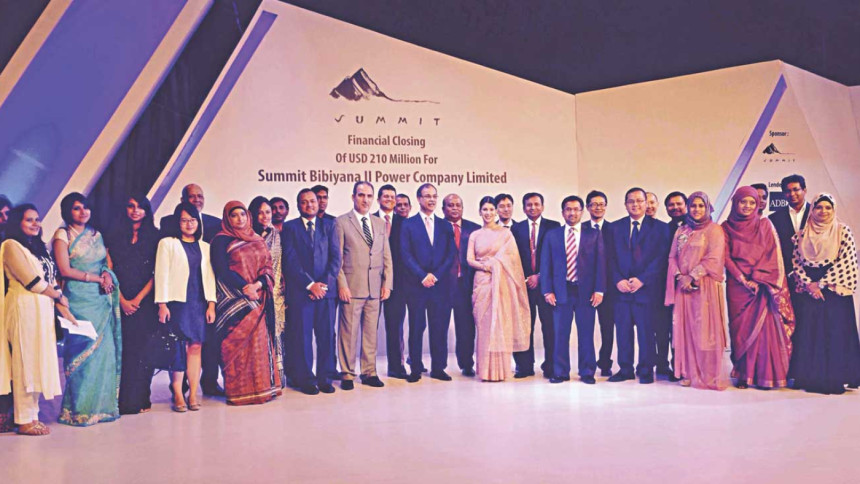 Summit Group, the country's largest electricity producer in the private sector, has received $210 million in financing from three development partners to forge ahead with its 341 MW gas-based power plant in Sylhet.
The Asian Development Bank, the International Finance Corporation and the Islamic Development Bank signed documents with the local company at Sonargaon Hotel in Dhaka on Tuesday to provide the capital to the Summit Bibiyana II Power Company Ltd.
The power plant company has been set up by Summit Industrial and Mercantile Corporation and US conglomerate GE Energy.
With a tenure of 14 years, the direct loan is the largest given to a Bangladeshi private sector project by any of the three development agencies. China Northeast Electric Power Engineering and Service Company will carry out operations and maintenance of the plant, while Brac Bank will act as the account and security bank for the international financing transaction.
"Apart from meeting the power demands of the country, the project is providing reliable employment opportunity during the construction and operational phases," said Tariqur Rashid, deputy managing director of Summit Turbine Division.
Don Purka, a director of the ADB, said the project would help Bangladesh alleviate its power shortages.
Hyun-Chan Cho, IFC's regional industry head for infrastructure and natural resources, said the World Bank's private sector financing arm is proud to be part of the project because the investment will send a positive signal to other private sector players in Bangladesh who are planning to develop efficient power projects.
Walid Abdelwahab, director for infrastructure at Jeddah-based IDB, said: "For IDB, this is part of its commitment to infrastructure development in its member countries."
Ayesha Aziz Khan, finance director of Summit Group, said Bibiyana II is producing the lowest cost electricity by using the most efficient technology.
The simple cycle part of the Bibiyana II project is producing 210MW on a test run basis now and it will start to supply electricity on a commercial basis this month. The combined cycle will go into operation in the next four to five months. Summit raised more than $500 million from foreign lenders over the last four years.
Tawfiq-e-Elahi Chowdhury, energy adviser to the prime minister, Atiur Rahman, Bangladesh Bank governor, and Muhammed Aziz Khan, chairman of Summit Group, were also present.