Strong bond market needed to finance infrastructure: analysts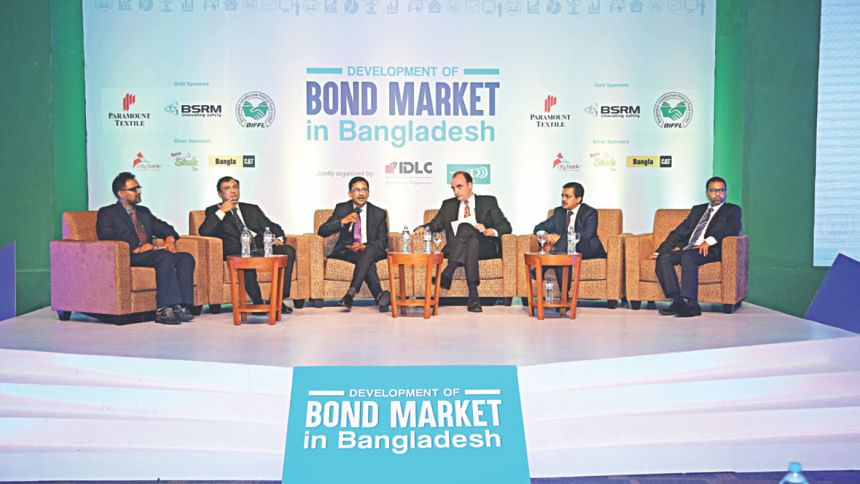 Bangladesh needs to develop a strong bond market to meet the financing demands of large infrastructure projects, speakers said at a seminar yesterday.
"We need to work together to establish a financial system that will provide various avenues for financing the large infrastructure projects," said MA Mannan, state minister for finance and planning, at the event held at the capital's Radisson Blu Water Garden hotel.
IDLC Finance and Public Private Partnership Authority jointly organised the seminar on the development of bond market in Bangladesh.
Bangladesh's infrastructure investment requirement is 7 percent of GDP but current investment stands at less than 3 percent. The development partners invest about 1.5 percent of GDP, meaning there is a financing gap of about 3 percent.
"If we can develop a bond market, it will not only meet the financing gap but also have a positive impact on the lives of the citizens of Bangladesh," Mannan added.
Bangladesh's financial system is heavily dependent on the banking industry, which shoulders 62 percent of the financing needs, followed by the stock market at 20 percent, bond 15 percent and insurance 3 percent.
The bond market is fully dominated by the government treasury bonds, with only two corporate bonds being in the market.
But in peer countries the prevalence of corporate bonds is much higher. It is over 40 percent of GDP in Malaysia, 20.5 percent in Thailand, 6.2 percent in the Philippines, 2.7 percent in India, 1 percent in Vietnam, while it is just 0.2 percent in Bangladesh. A bond is a fixed income security that provides fixed interest, making it comparatively safer than a stock for risk-averse investors.
Speakers said Bangladesh is unfortunately yet to develop a strong bond market. Neither policy makers nor the corporations have shown any substantial interest in bonds, they said.
As a result, the general investors have little idea about how a bond works.
Swapan Kumar Bala, commissioner of the Bangladesh Securities and Exchange Commission, emphasised the importance of having access to alternative means of financing for investors.
"Proactive regulatory policies are essential for the development of a bond market in our country," he added.
Vinod Kothari, an internationally recognised consultant on specialised financial subjects, and Bidyut Kumar Saha, senior financial sector specialist of the Asian Development Bank, presented two papers at the seminar.
They said a strong bond market is necessary for diversification of financing options and long-term investment. It also works as complement to foreign funding.
Arif Khan, CEO of IDLC Finance; Syed Afsor H Uddin, CEO of PPP Authority under the Prime Minister's Office; and Alamgir Morshed, managing director and head of financial markets of Standard Chartered Bangladesh, also spoke.