Stories of breaking the glass ceiling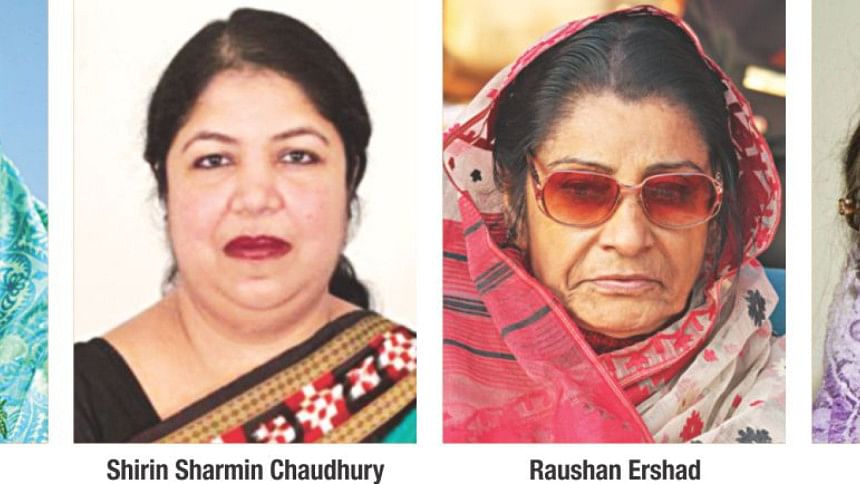 In Bangladesh, women have reached the highest echelons of power in politics, which is not very common in many parts of the world, including the developed nations. Bangladesh has been led by two female prime ministers -- Sheikh Hasina and Khaleda Zia -- for the last 23 years out of 26 years since the restoration of democracy in 1991. Not only that, both the speaker and the leader of the opposition in the present parliament are women -- Shirin Sharmin Chaudhury and Raushan Ershad.
The present parliament has 71 women lawmakers or over 20 percent of the total 350 members. On the contrary, India, the world's largest democracy, has 62 women out of a total of 543 members in its parliament. In terms of percentage, women's representation in Indian parliament is 11.4 percent.
Women's participation in grassroots politics -- union council, upazila and district council -- is also increasing, partly because of the seats reserved for them. Roughly, 14,000 women hold offices in different local government bodies across the country.
A rising number of women are breaking through the glass ceiling every day to hit the highest rung of their careers in both public and private services, be it the secretary of a ministry or the chief executive of a financial institution.
There are at least eight women secretaries in different ministries, a development which was almost unthinkable a decade ago.
A woman has been appointed as a judge in the appellate division and another one has been made election commissioner for the first time in the country's history.
Women's presence in leading roles in the private sector is also increasing significantly. For example, Fahmida Khatun has been appointed executive director of the Centre for Policy Dialogue, a renowned civil society think-tank in South Asia, for the first time.
Rupali Chowdhury has been heading Berger Paints, one of the world's largest paints manufacturers, for years. Another woman, Farzana Chowdhury is leading the country's largest insurance company Green Delta Insurance, while Sonia Bashir Kabir is the head of Microsoft Bangladesh, a leading tech company.
Many other women professionals have established a firm foothold in banks, insurance and finance companies and other corporate houses. At least, 59 women directors are on the boards of 39 private commercial banks.
Success stories of women would remain incomplete if the work of millions of garment workers and the women involved in the rural economy is not taken into account.
According to a study, 71 percent rural women are engaged in agricultural activities against 60 percent men. Almost every woman in the rural areas is involved in economic activities, such as in livestock and poultry, vegetable growing, post-harvest processing and preservation.
Last but not least, the apparel sector, which is the heart of the economy and earned nearly $30 billion from exports of garments in fiscal 2015-16, employs nearly 50 lakh women.
A World Bank report shows that female labour force participation in Bangladesh was 34 percent at the end of 2014. In contrast, it was 27 percent in India and less than 25 percent in Pakistan. This rate was nearly 80 percent in Nepal.
The report said Bangladesh can add 1.8 percentage points to its potential gross domestic product growth each year by increasing its female labour force participation rate from the existing level to 82 percent, the current rate of male participation.
Tremendous efforts and incentives in past years have helped Bangladesh get more girls into schools. Accordingly, the overall literacy rate increased to about 70 percent.
However, women's prospects in many areas in Bangladesh are far less rosy now than they should be. The majority of the women have remained out of the formal economy as they are engaged in household chores.
Many Bangladeshi women need permission from their husbands or senior family members to go outside their homes, on the grounds that they are not safe when they are alone.