Steelmakers bumping up billet production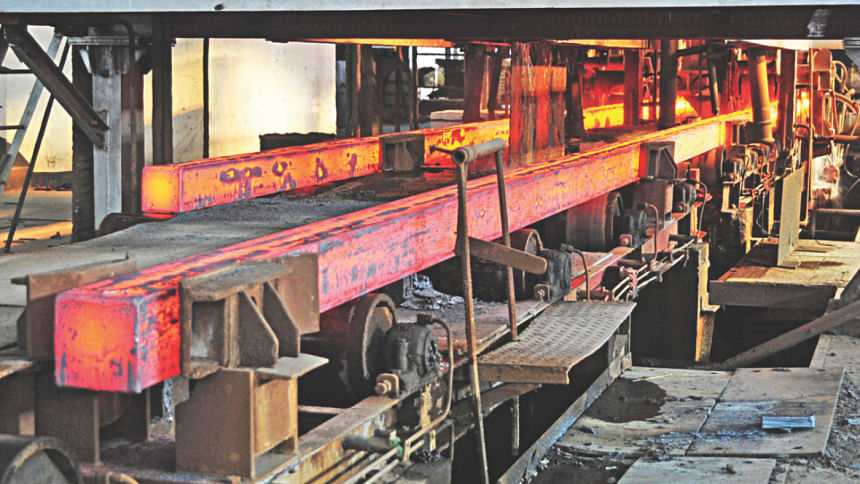 Bangladesh is on course to become self-sufficient in billet manufacturing, thanks to huge investment by large steel mills to make the main raw material for rod amid the growing demand.
The country's billet production capacity more than doubled to nearly 35-40 lakh tonnes per year, accounting for more than two-thirds of the total yearly demand.
Three years ago, the capacity was between 10 and 20 lakh tonnes, said industry insiders.
"We are moving towards backward linkage integration in steel industry. From an industry perspective, we are going to become self-sufficient in billet making," said Aameir Alihussain, managing director of BSRM, one of the largest steelmakers in the country.
BSRM bumped up its billet making capacity almost four times to 13 lakh tonnes in the last one and a half years as part of its plan to ensure control over raw materials by cutting import dependency. 
"Good quality billet is not always available in the international market, and prices also fluctuate. So, we wanted to establish control over raw materials and quality," he said.
Other large mills, like Abul Khair Steel, Kabir Steel Re-rolling Mills and GPH Ispat, also enhanced their billet making capacity to cater to the rising demand for steel.
Subsequently, import of billets dipped but that of scrap surged in the last two years.
Billet imports slumped 34 percent year-on-year to 11.57 lakh tonnes in 2016, while scrap imports surged 99 percent to 21.64 lakh tonnes, according to data from Chittagong Customs.
Alihussain said billet import fell also because of the duty spike by the government to encourage domestic production. 
"As production by importing billet is no more viable, everyone has turned their attention towards establishing facilities to make the raw material," he said.
But many mills that do not make billets and depend on imports have found it tough to do business for the duty hike as domestic production is not enough to meet the annual requirement for the crude steel.
Alihussain said Bangladesh's scrap imports will rise this year as all are moving towards backward integration. He urged the authorities to speed up unloading of goods, including bulk scrap, from vessels.
 Vessels with scrap often have to wait for a long time at ports, causing importers to pay fines, Alihussain said. Between 2008 and 2014, local steel production was almost stagnant at 25-30 lakh tonnes per year.
But the production capacity rose in the subsequent years because of an expansion drive by major players, as steel consumption is expected to go up in the coming years to feed the demand for an economy growing at upwards of 6 percent annually.
The demand for steel has been growing at nearly 10 percent annually, said Mohammed Jahangir Alam, managing director of GPH Ispat. The increased domestic production of billet has reduced the cost of import. "We are saving a minimum of $150 each tonne by importing scrap."
"Billet production itself is a big industry," Alam said, adding that local production is also helping create jobs and boost expertise. GPH is raising its billet production capacity to nearly 10 lakh tonnes a year from existing 1.70 lakh tonnes.
The company will also increase its rod production capacity to ensure production of 7-8 lakh tonnes of steel from next year.
"In one or two years we will not need to import billet. If we want, we will be able to export." Alam went on to urge the government to ensure long-term low-cost loans to facilitate increased investment in the steel industry. Currently, entrepreneurs get loans for five years. "Short tenure and high interest put off investors from expanding their capacities."
Alam said reputed business houses can be allowed to raise money from public for their new firms in the green-field category.
Green-field companies are those that are listed on the stock exchange before they go into commercial operation.