Steel sector has huge growth potential
Experts say at a summit in the port city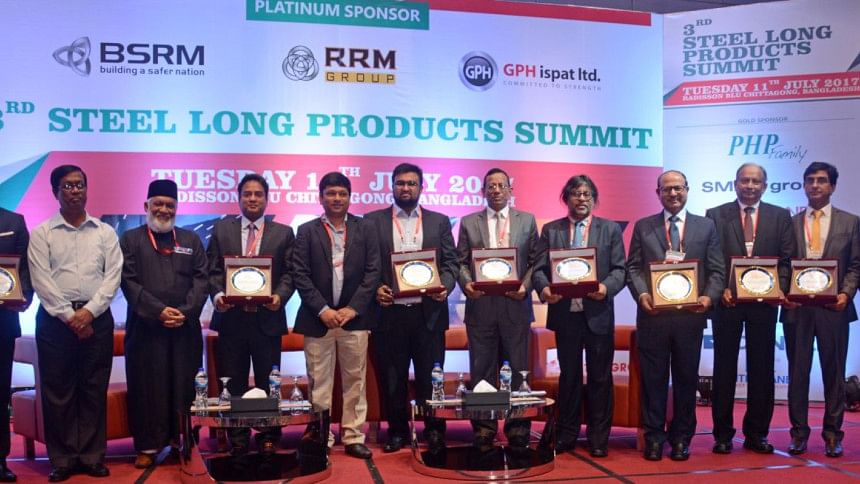 The country's steel manufacturing sector has a huge growth potential thanks to the increasing construction activities and a good trade prospect in the neighbouring Seven Sister States of India, experts said.
Bangladesh currently consumes around 8 million tonnes of steel a year, which would reach 18 million tonnes by 2030 if the port's existing problems like the lack of infrastructure, power crisis and tariff barriers are addressed soon, they said.
Senior officials of different steel related industries from Bangladesh and India shared their views at the third Steel Long Products Summit held in Chittagong yesterday.
Steelgroup.co.in, a leading information and networking platform based in India, organised the programme at Radisson Blu Chittagong Bay View.
Representatives of different steel manufacturing and equipment suppliers from Bangladesh, India, Germany, Austria, Taiwan, China and Japan took part in the daylong event. Indian Assistant High Commissioner Somnath Halder and PHP Group Chairman Md Mijanur Rahman jointly inaugurated the summit.
AS Firoz, chief economist (joint plant committee) of the Ministry of Steel of India, and Sachin Shetty, managing partner of Quesrow Consulting, were the keynote speakers in the inaugural session. A panel discussion on "Regional steel long products market: present and future challenges and solutions" also took place at the summit.   
The challenges that Bangladesh's steel sector is facing now was experienced by the Indian steel producers 30 years back and they overcame those, VR Sharma, group CEO for steel and power at Abul Khair Group, said at the event as a panel discussant.
He forecasted that Bangladesh's steel market would be able to produce up to 18 million tonnes of steel a year within a decade as the country now generates very good engineers and what they need is training on handling of mega steel plants.
With increasing development and construction activities in the densely populated cities, this country of many rivers would also need many bridges for more connectivity in the coming years, for which more steel will be needed, he said.
He also emphasised considering the neighbouring Seven Sister States of India as the potential market for Bangladesh's steel sector. "Don't think that your market is of 17 crore people, rather it is a market of 30 crore."
M Firoze, head of marketing and product development at Bangladesh Steel Re-Rolling Mills (BSRM), said it is true that new investments are coming to the steel sector but it is basically in the long product sector.
BSRM is the largest group in Bangladesh's steel sector that produced 1.2 million tonnes of finished goods last year.
Bangladesh still lacks the infrastructure to turn up as a big steel maker since it does not have resources like coal mine or iron ore mine and has to depend on imports, he said.
Moreover, due to lack of facility in the port, ships bringing raw materials like scraps have to wait several weeks to be cleared, for which the steel makers count a loss of $20 per tonne, he added.
He also marked power outages and tariff barriers in import of raw materials like billets as obstacles for the country's steel sector.
Madani M Intiaz Hossain, executive director of GPH Ispat, stressed the need for incorporating new technology by the steel makers to produce high quality finished products.