Steel production to jump on big infrastructure projects
Industry leaders say at a conference in Dhaka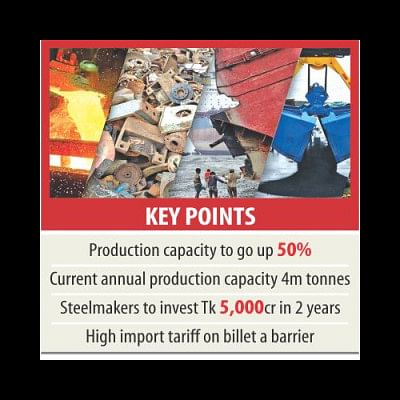 Bangladesh will witness a dramatic increase in steel manufacturing in the coming years as consumption is expected to rise rapidly to cater to large infrastructure projects and higher demand across the country, industry leaders said yesterday.
Production will rise to more than six million tonnes a year in a couple of years from four million tonnes now, said Manwar Hossain, managing director of Anwar Group.
"The industry is booming," he told The Daily Star on the sidelines of the second and last day of the Coal, Steel and Raw Material Conference at Radisson Hotel in Dhaka.
Some 270 people from 12 countries including India, Singapore, the US, Japan, Korea and some European countries took part in the conference organised by SteelMint Events, an event management company based in India.   
The event enabled major suppliers of raw materials and technology from all over the world to network with steel, cement and power producers and traders in Bangladesh, said Dhruv Goel, managing director of SteelMint.
More than two dozen companies set up stalls at the conference venue to show their products.
The global steel industry is going through a slowdown; however, there are a few countries that have performed extremely well and Bangladesh is one of them, he added.
The steel sector in Bangladesh has recorded 15 percent growth in 2015, riding on infrastructure, both in housing and public utilities, he said.
Bangladesh is one of Asia's most emerging steel markets and has a growing need for raw materials and steelmaking technologies, he added.
Scrap, sponge and pig iron will be major raw materials for steel smelting units based in Bangladesh, with imports expected to clock 2.5 million tonnes in 2016 and 4.5 million tonnes in 2018, which will make Bangladesh the second largest scrap importer in the region, after India, and the fourth largest importer in Asia, according to the event organisers.
Hossain of Anwar Group said the whole industry is undergoing a huge change as local manufacturers are replacing old technologies with new ones to ratchet up production.
"Some companies have doubled or trebled their production capacity to cater to the rising local demand."
Steelmakers will invest about Tk 5,000 crore in the next two years, he said.
Bangladesh relies on local manufacturing to meet the demand for steel, as local producers have developed the capacity to produce high-quality steel products. However, the country has to import raw materials, said SK Masadul Alam Masud, chairman of Bangladesh Auto Re-rolling and Steel Mills Association.
Steel consumption will obviously go up when Bangladesh will carry out unfinished development works, he added.
"Steel consumption is on the rise. So, foreign raw materials and technology suppliers are coming to Bangladesh in large numbers."
Raghavan Somnath, chief of strategy and business excellence at India's Tata Sponge Iron Ltd, said infrastructure projects such as roads, bridges, ports and river tunnels worth at least $20 billion are going on in Bangladesh. If steel constitutes 15 percent of those projects, an additional four million tonnes of steel will be required, he added.
India and Bangladesh can work together to compete against global players, he said.
Bangladesh imports raw materials from South Africa, Australia, India, the US and the EU, said Mofizul Islam Azad, head of sales and marketing of Macro Shipping Company. Imports will go up 25 percent this year from last year, he added.
Hossain of Anwar Group called upon the government to reduce import duty as the tariff hike from Tk 3,500 a tonne to Tk 13,000 in the current budget prompted small producers to import ingot duty-free and produce low-quality steel products.
"We, the major producers, are self-sufficient in billets. But with higher import duties, small producers cannot afford producing billets from scraps."
Aameir Alihussain, managing director of BSRM, Sumon Chowdhury, chairman of RRM Group (Bangladesh), and VR Sharma, group chief executive of Abul Khair Group, also spoke.