State banks still in capital deficit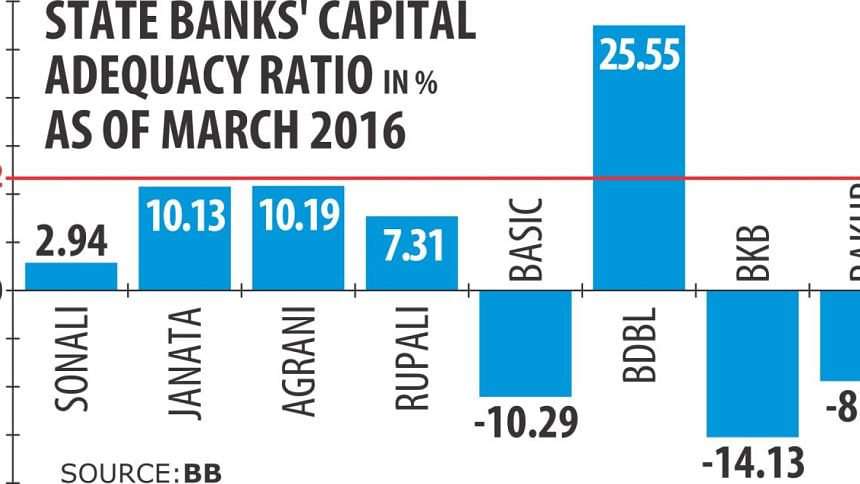 The government provided Tk 1,578 crore to state banks last fiscal year to meet their capital deficit and yet it was not enough for the institutions.
Scam-hit BASIC Bank was given Tk 1,200 crore, Sonali Tk 178.41 crore, Krishi Tk 140.08 crore and Rajshahi Krishi Unnayan Tk 55 crore.
Initially, Tk 5,000 crore had been earmarked for the state banks, but a major portion of it was slashed later -- the strongest indication yet of the government's intent to crack down on the lenders' errant ways.
Even after the substantial capital injection, the eight state banks -- six commercial and two specialised -- ran a total deficit of Tk 12,550 crore until March 31.
The capital deficit of the six commercial banks was Tk 4,736 crore.
Sonali has a shortfall of Tk 2,849 crore and BASIC Tk 2,236 crore, while Agrani, Janata and Bangladesh Development Bank Limited have surplus.
The two specialised banks -- Bangladesh Krishi Bank and Rajshahi Krishi Unnayan Bank -- together have a capital shortfall of Tk 7,814 crore.
In January last year, the central bank introduced the BASEL III capital adequacy ratio standard for banks.
The banks will have to maintain a capital of 10.62 percent of their risk weighted assets. Save for BDBL, other state banks were not able to maintain the capital adequacy ratio.
This fiscal year, only Tk 2,000 crore has been allocated to meet the banks' capital deficit.
The development is a departure from the government's position on state banks, which have been handed huge sums for recapitalisation.
Earlier this year, the banking division sought Tk 10,000 crore for the purpose for the next two fiscal years.
"The state banks will manoeuvre to make their financial conditions worse and the government will continue to give them funds from taxpayers' money -- things cannot go on like this," said a finance ministry official.
With the cut in allocation last fiscal year, the state banks have been given a warning that they will have to be self-reliant, he said.
There are plans to bring in some reforms in state banks next year, with the government considering offloading some of its shares in the institutions, according to the official.
Economists have already called for immediate privatisation of state banks save for Sonali and drastic measures against public enterprises to stop them from bleeding the economy.
"I think enough is enough. We no longer need state banks," said Mohammed Farashuddin, a former central bank governor, at a pre-budget discussion jointly organised by the Metropolitan Chamber of Commerce and Industry and Maasranga TV on May 15.
"We only need to keep Sonali Bank, which is our treasury bank. The other state banks should be left in the hands of people," he added.
Sadiq Ahmed, a member of the central bank's board of directors, unequivocally backed Farashuddin.
"Money is stolen from public banks and then taxpayers' money is used to save them -- I think it is a disastrous policy. This should not be tolerated any more."
Ahmed called for turning the state banks into narrow banks, if they are not privatised. Narrow banks can only take deposits; they cannot lend.
"If you can take away the lending decision, there will be no scope for misuse and abuse," he added.
On the proposal for privatising state banks except Sonali, Finance Minister AMA Muhith had said: "It's a good suggestion. We're already thinking about it, but we haven't taken any step in the true sense. This proposal, however, encourages me to take it forward."
Over the longer term, rising stress in the state-owned banks will require more radical reforms in their structure of governance, said a recent World Bank report.
"The fundamental problems with the state banks are the interdependence between banks and state-owned enterprises, the way that banks are run as SOEs, and the government's improper influences on the operations of SOEs and banks."
Also, many private industrial companies have been hit by delays in making their investment projects operational due to unavailability of basic utility connections such as gas, water and electricity, leaving them unable to repay their loans to state banks.
"Though these problems have been around for a long time and are deeply rooted, they have never really been solved."
The banks' financial discipline was undermined by scams, high non-performing loans and inadequate capital followed by repeated recapitalisation, it added.