State banks' loss-making branches soar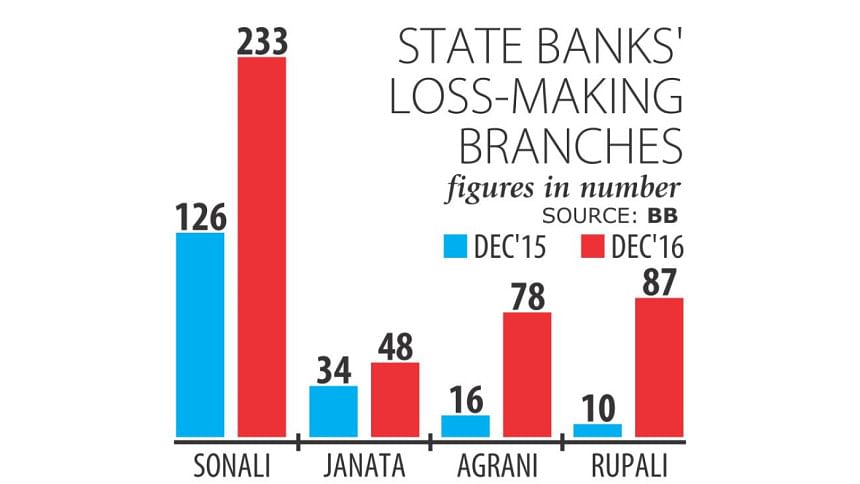 The four state-owned banks' loss-making branches more than doubled in 2016, much to the worries of Bangladesh Bank and the finance ministry.
At the end of 2016, Sonali, Janata, Agrani and Rupali's loss-making branches stood at 446 in contrast to 186 at the end of 2015.
The reason for the sharp rise in the number of loss-making branches is that they were previously shown to be breaking even or in the black artificially on the back of their interest income from head office against deposits.
"But that was a wrong concept," said Mohammad Shams-Ul Islam, managing director of Agrani Bank, whose number of loss-making branches shot up to 78 last year from 16.
The practice masked the true performance of the branches, he said.
Sonali's loss-making branches increased to 233 from 126, Janata's from 34 to 48, Agrani's from 16 to 78 and Rupali's from 10 to 87, according to data from the BB.
"There is nothing to be worried about the increase in the number of loss-making branches," Islam said.
The state banks have now decided to give the branches realistic performance targets and leave out the interest income earned in-house from their books.
Meanwhile, the net profit of all four banks declined last year on the back of soaring operating expenses.
Sonali incurred loss of Tk 818 crore in 2016 in contrast to profit of Tk 58.65 crore a year earlier.
Janata's profit slumped almost 48 percent to Tk 250.68 crore and Agrani's 9.7 percent to Tk 65.31 crore.
Rupali logged in loss of Tk 49.79 crore for 2016 compared to profit of Tk 23.50 crore in the previous year.
The operating expenses of Sonali, Agrani and Rupali exceeded the limit set by the BB in the performance agreement. Only Janata managed to keep its expenditure within the bounds set by the central bank.