Sovereign wealth fund, taka bond plans scrapped: Muhith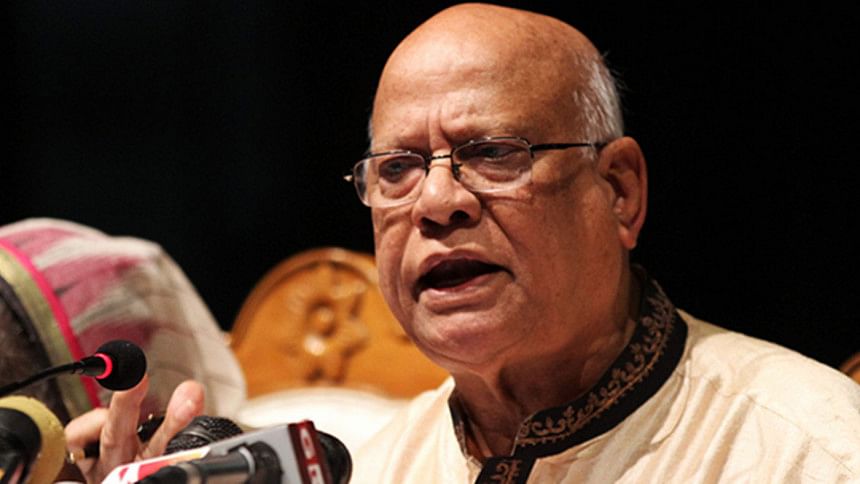 The government may not go ahead with its plans to set up a $10 billion sovereign wealth fund in the end -- in what can be termed a sharp change of mind after years of talking up the idea.
In February this year, the cabinet gave the go-ahead for the setting up of the fund with money from the record foreign currency reserves, which would be used for government investment in long-term projects in the power, energy and infrastructure projects.
"We are thinking whether we will do it ultimately," Finance Minister AMA Muhith told The Daily Star in an interview in Washington DC on Sunday on the sidelines of the World Bank-International Monetary Fund Spring Meetings. 
The government may also discard its plan to issue a $1 billion offshore taka-linked bond set to be launched with assistance from the International Finance Corporation, the private sector lending arm of the World Bank Group. The proceeds from the bond issuance were supposed to be invested in private infrastructure and public private partnership projects.
"We are now thinking that it will not be a sovereign bond. It will be different kind of bond. We will do it, but we will not call it a bond. Let's see," Muhith said after a meeting with IFC Chief Executive Philippe Le Houérou. The government has the blessings of the IFC to issue the bond on its own and it has also offered to provide advisory service on the matter.
"The IFC is very good on the subject. Of course, we can receive the service. We may take it as we have not tried it in Bangladesh before."
Now, the government will seek ways to raise funds through state-run non-banking institution Bangladesh Infrastructure Finance Fund, which has been quite active in recent years, according to Muhith.
"We have given it several hundred crores of taka and it has almost exhausted the money."
Probably, the government will give BIFFL some more money by raising funds, the finance minister said.
Operating since 2011, BIFFL has the mandate to invest in large infrastructure projects, including power and energy, ports, connectivity, tourism and economic zones.
Muhith also talked about the IFC's investment plan in Bangladesh, saying the WB arm's activities in the country have been "quite good" in the last eight years.
The IFC creates a link between a foreign investor and parties in Bangladesh and brings foreign investors to the country.
In Bangladesh, the IFC mainly works in power and to some extent in the transport sector. It is keen on expanding to logistics, financial services and agriculture.
"The IFC also thinks that it should get into transport in a big way," Muhith said, while advising the WB arm to target at least $1 billion worth of investment for the sector.
"Mr Philippe has accepted it, saying maybe it will not be possible in a single year but the IFC can pick up projects once they roll out to take the investment to $1 billion within one or two years."