Soaring jute prices worry exporters
Farmers benefit from the spiral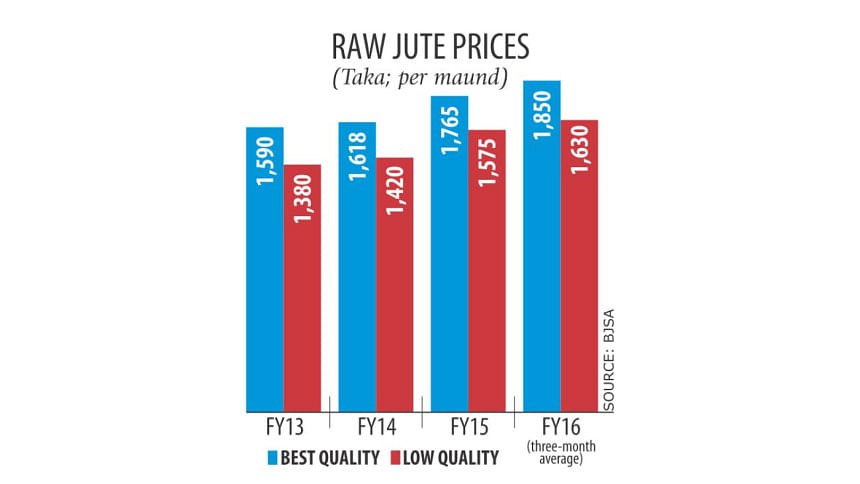 Raw jute prices have gone up further amid low supply, making manufacturers and exporters anxious about the negative impact on exports.
The prices of good quality raw jute rose to around Tk 2,100 a maund at the end of September from Tk 1,800 in August, according to traders.
The prices of low quality jute also soared with jute yarn makers and raw jute exporters linking the spike to stocking by a section of traders as speculations of poor crop for unfavourable weather run high.
"We are concerned that the supply of raw jute is declining during this peak season and prices are going up. A section of traders and hoarders are controlling the supply of the fibre in the local markets in different growing regions," Ahmed Hossain, chairman of Bangladesh Jute Spinners Association (BJSA), said in a statement.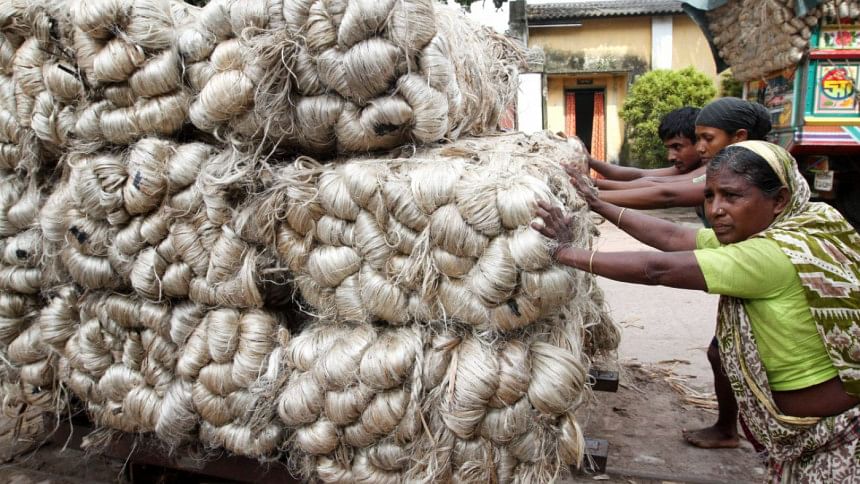 However, some traders and farmers said many growers are releasing their produce slowly, encouraged by rising prices.
"Farmers in our area have enjoyed high onion prices and so they are not that desperate to sell their jute produce. So, many of us are releasing jute stocks gradually," said Md Asaduzzaman Molla, a farmer at Madhukhali in Faridpur, a major jute growing district.
The BJSA said the mills cannot buy the natural fibre at "appropriate" prices because of soaring prices.
"If the price spiral continues, production at mills will be affected," said the BJSA chairman, urging the government not to allow dealers and wholesalers to stock over 1,000 maunds of raw jute for more than a month.
Similarly, Bangladesh Jute Association (BJA), a body of raw jute exporters, called upon the government to take action to ensure an increased supply of raw jute in the market.
The concern from jute yarn makers and exporters comes amid fears that the crop has not been good this season for unfavourable weather.
The Department of Agricultural Extension estimates that the crop was sown on 7.26 lakh hectares, which is higher than last year's acreage of 6.72 lakh hectares.
Total jute production this year might be 60 lakh bales (1 bale=182 kilograms), which is lower than the 64 lakh bales required by mills and raw jute exporters, according to jute spinners who are the biggest consumer of raw jute.
Last year, jute output stood at 75.01 lakh bales, according to Bangladesh Bureau of Statistics.
Ensuring the supply of raw jute is essential to keep the industry running, said the association of jute spinners.
The association, citing a previous decision taken by the textiles and jute ministry, demanded the authorities prevent unauthorised traders from buying and stocking raw jute.
"It seems that a section of traders, who do not have trade licences and taxpayer's identification numbers, are hoarding raw jute," said BJA in a separate statement.
The raw jute exporters have fallen in trouble for a sudden spike in prices, as many of them had signed contracts with foreign buyers at lower prices earlier, it added.
When asked, Mohammed Kefayet Ullah, director of the Department of Jute, said they monitor the market to check stocking and hoarding. The higher prices benefit farmers, he said.
The BJSA said the hike in jute prices will push production costs up for millers, although they cannot hike the price of jute goods for sluggish demand abroad owing to the Middle East crisis and depreciation of currencies of various importing countries.
In July-September of fiscal 2015-16, raw jute exports rose but earnings from jute yarn and twine fell 13 percent to $111.2 million year-on-year.
Exports of jute sacks and bags dropped 11 percent year-on-year to $26.59 million in the same period, according to Export Promotion Bureau.
Bangladesh earned $868 million from exports of raw jute and jute goods in fiscal 2014-15.