Skills building must get prime focus
Analysts say at a discussion organised by BYLC and The Daily Star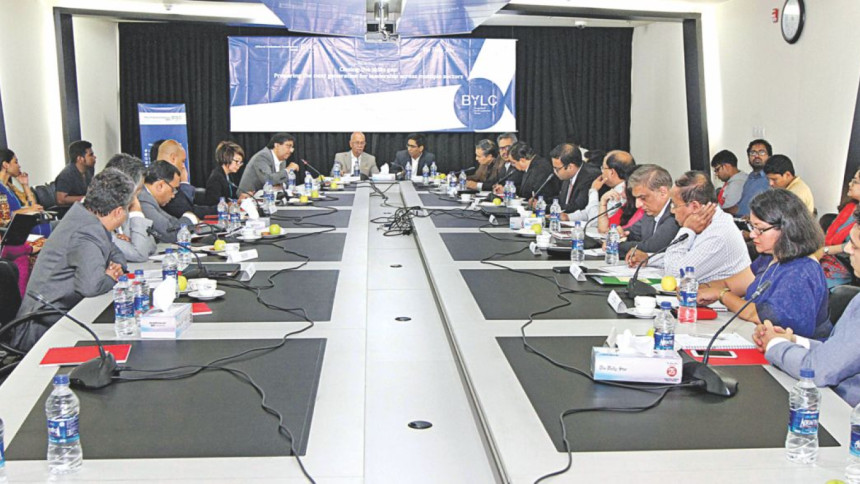 Skills development of the youth should be a major priority for the country to meet the shortage of competent professionals across various industries, analysts said at a roundtable yesterday. 
The experts emphasised that the education system needs to be designed in a manner that equips graduates with the skills demanded by existing companies and emerging industries.
"There is a mismatch between the skills required by the job market and what is taught by academic institutions," said Faruque Hassan, senior vice-president of Bangladesh Garment Manufacturers and Exporters Association.
"It is ironic that many of our graduates are looking for jobs, while we in the garment industry are struggling to find enough talents with requisite skills to fill available positions," Hassan said at the discussion on "Closing the skills gap: Preparing the next generation for leadership across multiple sectors".
Bangladesh Youth Leadership Centre (BYLC) and The Daily Star co-organised the event at the newspaper's office in Dhaka to explore effective methods of increasing professional development initiatives for young people to access meaningful jobs.
Selim RF Hussain, managing director and chief executive of Brac Bank, said there is a significant shortage of talented people despite the country's large population.
"The skill set does not match our requirement. There is a complete disconnect between demand and supply of skills we are looking for."
He said the business schools should talk to prospective employers such as banks and fast-moving consumer goods companies to find out what the industries are looking for. 
"Do the curriculums at schools, colleges and universities need to adapt to the need of the 21st century? I think they are back in the 18th century. They have absolutely no idea about what is needed."
About two million people join the workforce every year.
In 2015, the size of the labour force was 6.14 crore. Of them, 5.87 crore are above the age of 15, according to a budget document submitted in parliament by Finance Minister AMA Muhith in June.
The document says the skills level of the labour force is not satisfactory. Some 40 percent of the workforce is illiterate and only 23 percent passed primary education, data from 2010 shows.
Kamran Bakr, CEO of Unilever Bangladesh, said the country must move from learning by rote memorisation to developing core skills, such as problem solving and critical thinking, through continued practice.
"Our courses targeted towards the millennial generation should be deployed through innovative pedagogy," he said, citing that the youth of today are ambitious, tech-savvy, but often have short attention spans, substantiating the importance of latest methods, including gamification, as useful teaching tools.
Bakr also said English is no longer a language but a tool for doing business the world over. "The faster we recognise that and act upon it, the better we will be."
Md Golam Samdani Fakir, vice-chancellor of Green University, said graduates should be academically competent, ethically driven and responsible citizens.
Samdani also said that while there is the desire to contemporise university curriculum, private universities often face challenges in garnering the necessary support from authorities.
He also said more than 15,000 teachers are involved in 95 private universities and 1,200 new teachers join them every year.
"If you can't build their capacity how can you expect to produce better graduates?" he asked. "Quality teachers have to be developed."
All business enterprises should encourage internships as their corporate social responsibility and make it systematic so that internships can impart meaningful, practical skills, he said.
Syed S Kaiser Kabir, CEO of Renata Ltd, said a holistic education that emphasises reading, writing and analytical thinking is imperative if someone wants to shine in a field and create value for himself or herself.
The top skills employers look for are behavioural, communicational and vocational skills, he said.
"It is not possible for educational institutions to keep up with the pace of the changes of industries as the latter changes so fast."
Most of the business schools in Bangladesh are imitative, and a part of the education imparted to students is not suitable for markets and the country, said AKM Saiful Majid, director of the Institute of Business Administration at Dhaka University.
"We have done little research on what the employers need and the skills and knowledge we need to impart to the students so that they are appropriately prepared for the labour market." 
"We need to activate effective university-industry linkages. BYLC is doing a commendable job in filling a critical void," he said.
Syed Mahbubur Rahman, CEO of Dhaka Bank, said the companies also need to find out what they can do, along with educational institutions or employees, to develop the skills of the workforce.
Syed Nasim Manzur, president of the Metropolitan of Chamber of Commerce and Industry, supported meaningful on-the-job placements such as internships and called for de-emphasising business education at the undergraduate level, terming it an "absolute waste of time".
"We have to get people back to sciences, English, mathematics and philosophy. Unfortunately, most universities in Bangladesh are in the big business of churning out graduates instead of creating knowledge."
Manzur also blamed the University Grants Commission for delaying the approval process for new curriculums or any innovation.
"The students are not coming with the right attitude. We are not treating them right -- they are not given meaningful projects. At the end of the day, we are not making the most of their potential," he said.
There should be opportunities for students to get exposure to hands-on experience and opportunities, said Paulin Temesis, country director of UNDP Bangladesh.
The curriculums also have to be designed in partnership with universities, firms and students.
"As we are operating in a rapidly changing world, the ability to manage change is also crucial," she added.
Nazim Farhan Choudhury, chief executive of Adcomm Ltd, called for imparting training to teachers so that they teach their students the right skill set.
He also said migrant workers should be given proper training.
About 91 percent of the migrants are blue-collar workers in Saudi Arabia, the UAE, Malaysia, Oman, Kuwait, South Korea and Singapore, according to a survey of the Bangladesh Bureau of Statistics conducted in 2013.
Most of them -- 87.8 percent -- received no formal training before leaving the country.
There are about 70 lakh Bangladeshis currently working abroad. Of them, 31 percent are skilled, 14 percent semi-skilled, 2 percent professionals and 52 percent lowly skilled.
Farzana Chowdhury, CEO of Green Delta Insurance, said students should be mentored. For this, educational institutions need to have career coaching.
Amyn Saleh, chairman of Aga Khan Education Service, said the nature of jobs is changing with more people working part-time and on contractual basis, and many jobs are becoming automated.
"So, it is imperative to prepare students keeping the future in mind and make them critical thinkers."
Tahsinah Ahmed, director for skills development programme of Brac, stressed the need for soft skills such as relationship building, communication, customer relationship and language proficiency.
"They add a lot of value to the work that young persons are doing," she added.
Mahfuz Anam, editor and publisher of The Daily Star, said about 70 percent of the country's population are youth, and skills turn a normal person into a productive one. "So, if we can give them the right skills, we will have a prosperous Bangladesh."
Sharif Zahir, managing director of Ananta Group, an apparel exporter, said a lot of emphasis has been placed on fashion design in the garment sector, but the industry needs people with technical knowledge.
BGMEA's Hassan also emphasised technical and vocational education, as the country does not produce enough technicians, forcing Bangladesh to hire a large number of expatriates, especially at top-tier positions at factories and liaison offices of multinational brands in Dhaka.    
Ishtiaque Zaman, chief adviser of Connect Consulting Ltd, and Nabeel Ud Daulah, CEO of DIRD Group, emphasised interpersonal and critical thinking skills as the country's education institutions still primarily rely on rote learning. They recommended more application-based education at universities.
 Akhter Matin Chaudhury, chairperson of BYLC, and Ejaj Ahmad, founder and president of BYLC, co-moderated the discussion. Mohammed Ferdous Yusuf, chief human resources officer of bKash, also spoke.
The Office of Professional Development (OPD) of BYLC that organised the discussion aims to equip BYLC graduates with professional development training required to excel in today's competitive job market, and connect high-potential talents to opportunities.