Skills building key to garment sector growth
Analysts say at roundtable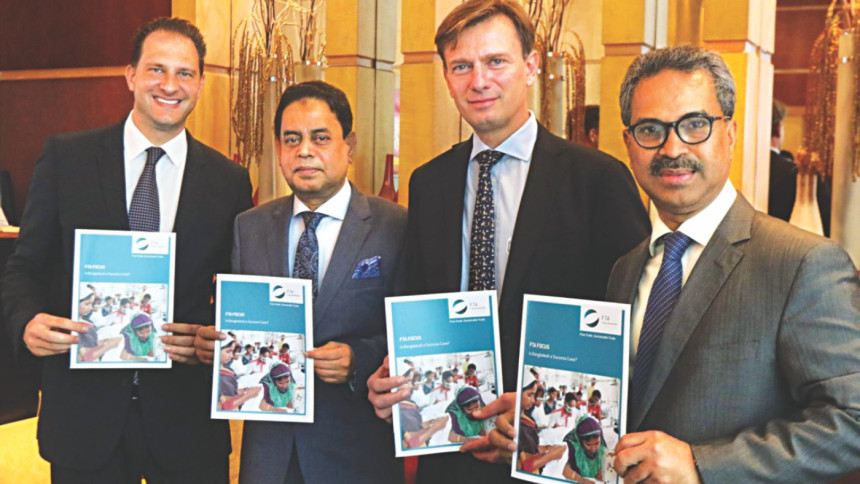 Increasing the capacity of workers is imperative for the sustainability of garment and leather sectors, the two major contributors to national exports, said a study.
For that end, a number of stakeholders such as the government, the ILO, GIZ, the EU and retailers such as H&M, Tesco and Gap are engaged in improvement plans at factory level, said Shahamin S Zaman, chief executive officer of CSR Centre.
The stakeholders are heavily engaged in capacity building projects and initiatives to promote the sustainability of both sectors.
Zaman's comments came while presenting a paper, on enhancing trade through capacity building in Bangladesh's garment and leather industries, at a roundtable yesterday.
The Business Social Compliance Initiative and the Foreign Trade Association organised the roundtable, which was attended by international retailers, government higher-ups, garment makers and trade union leaders.
The FTA is a Brussels-based platform of nearly 1,700 retailers and manufacturers of different products, whose combined annual turnover is nearly $1 trillion.
Bangladesh is going in the right direction as compliance is improving in the garment sector after the Rana Plaza collapse, said Christian Ewert, director general of FTA.
The FTA has been conducting training programmes for about 2,500 workers, mid-level managers and owners of 62 factories this year, he said.
The capacity goes up in factories when the buyers put pressure on the management, and the capacity goes down when the buyers do not put pressure, said Soren Kannik, a garment retailer of TT Sourcing Ltd.
The average productivity of the leather sector is 45 percent, which is less than in other countries and half of China's 90 percent, according to Saiful Islam, managing director of Picard Bangladesh, a major shoe and leather products exporter.
About one-fourth of the 220 tanneries in Hazaribagh will have to move to Savar by March next year.
This time the shifting of tanneries from Hazaribagh to Savar will take place as the leather estate has been developed, he said.
Monoj Kumar Roy, additional secretary to the commerce ministry, urged the FTA to establish a training institution for workers in collaboration with the government for capacity-building.
Nazma Akter, president of Sommilito Garments Sramik Federation, called for increasing the facilities for workers so that they can have more food to cover their nutritional deficiency, which in turn will lead to higher productivity.
The international retailers should also follow ethical buying practices and pay higher for per piece of garment items, she said.
Faruque Hassan, senior vice-president of Bangladesh Garment Manufacturers and Exporters Association, also spoke at the roundtable, which was moderated by FTA Country Representative Daniel Seidl.