Shipbuilders seek support to compete with Asian rivals
They call for a Tk 2,000cr refinancing scheme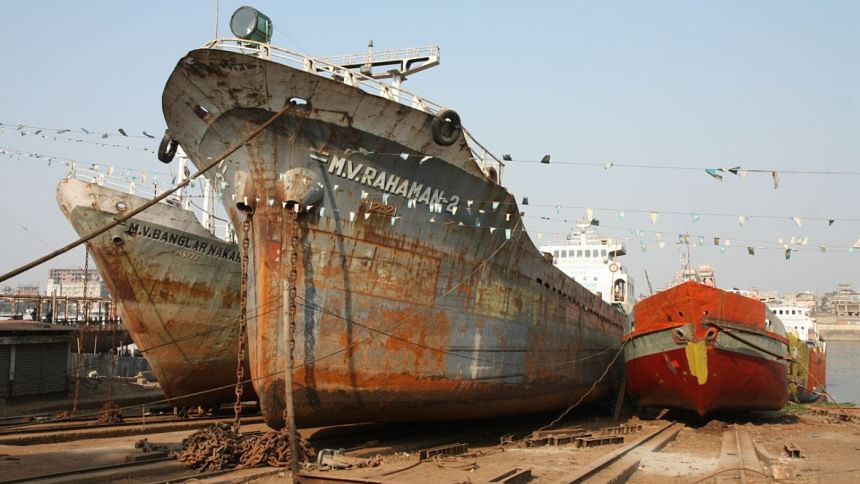 The shipbuilding industry has sought an incentive package from the government to make the country's shipyards competitive against those of Vietnam, India and China.
The proposal was made yesterday by the leaders of the Association of Export Oriented Shipbuilding Industries of Bangladesh at a meeting with Finance Minister AMA Muhith.
Md Sakhawat Hossain, the association's general secretary, urged the minister to make the cost of finance for shipbuilding similar to those of other competing countries in Asia.
Precisely, the shipbuilders demanded consolidated bank guarantee issuing cost as 1.5 percent a year and long-term funding at 7 percent interest and working capital with single digit rates.
The industry now gets short-term loans, so a minimum duration of 8 to 10 years would help in repayment, Hossain said.
If the cost of financing cannot be brought down to their desired levels, they called for the cash incentive on export of ships to be increased from the existing 5 percent to 15 percent in the budget for fiscal 2015-16.
"If the incentive is granted, we are confident of securing more international orders and thereby add more values to the economy," he said.
At present, the industry employs more than 1 lakh and its value addition exceeds 40 percent. Furthermore, quite a few backward linkages such as manufacturing of marine cable, furniture, paint and so on have developed from the sector.
The association also proposed a refinancing scheme of Tk 2,000 crore that would be re-loaned to the shipbuilding industry at single digit interest rate.
This would facilitate the shipbuilders to develop their businesses further and progress their ongoing work orders for 20-25 ships.
Recently, the industry received orders from New Zealand, East Africa and India, which, Hossain said, shows the global shipbuilding market is showing keen interest in Bangladesh. The upcoming treaty between Bangladesh and India on Protocol on Inland Water Transit and Trade may create a huge demand for coastal ships, he said.
"If our shipyards are not competitive in the Asian market, we may lose all the opportunities of getting these orders," Hossain added.
The minister said their proposals will be scrutinised.