Savings tools face reforms
Interest rates may be cut for institutional buyers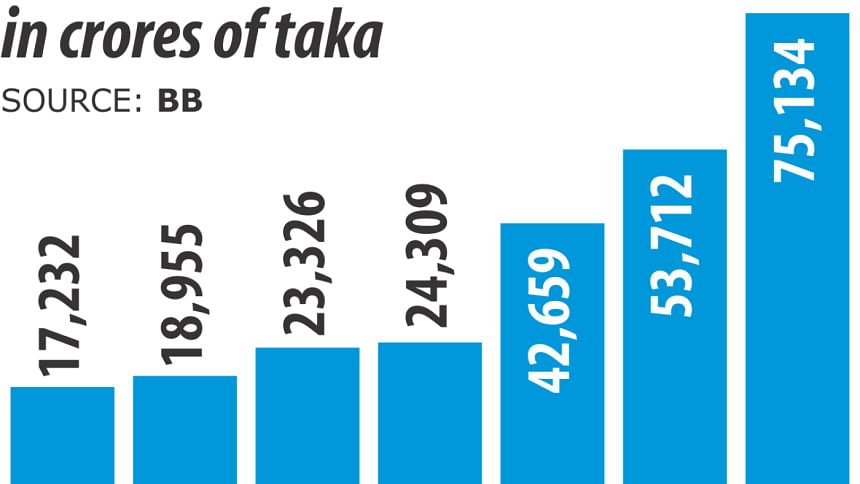 The government plans to introduce two different interest rates on savings tools in order to rein in its growing reliance on the high-cost borrowings.
The government is considering to lower the interest rate on savings certificates for institutional buyers and keep the rate for individual buyers unchanged, said an official in the finance ministry.
The official said the rate for institutional buyers could be brought down to close to the rates offered by banks. 
Hedayetullah Al Mamoon, senior secretary of the finance division, said the ministry is examining the matter, but no decision has been taken yet.
He said the savings scheme system would be remodelled keeping in mind the small savers.
Savings instruments are sold at about 17,000 outlets. "So, it is difficult to identify buyers," said the senior secretary, adding that the savings scheme system would go digital.
An official of the savings directorate said a major part of the savings instruments is bought by institutional buyers.
As savings instruments yield higher interest compared to banks, many private firms, government organisations, and financial institutions invest in the tools to make profits easily, said an official of the central bank.
The government currently offers 11.28 percent interest on five-year tenure savings tools to finance part of the annual budget. The rate is 5 to 6 percentage points higher than those offered by commercial banks on term deposits.
As a result, the government's borrowing from savings certificates is on the rise.
In the last fiscal year, the government had targeted to borrow Tk 19,610 crore from the sales of savings instruments. The amount was raised to Tk 45,000 crore in the revised budget. But, the government's net borrowing overshot to Tk 52,417 crore.
Gross sales of savings instruments grew 40 percent year-on-year to Tk 75,134 crore in the last fiscal year. The momentum has continued in the current fiscal year as well.
In July, net sales of savings certificates stood at Tk 5,053 crore, which is 44 percent higher than that in the same period in the last fiscal year.
On the other hand, the government's borrowing from banks showed a reverse scenario although the cost of funds is lower. In 2016-17, the government's goal of borrowing from the banking system was set at Tk 38,938 crore. Later it was revised down to Tk 23,903 crore.  But the government had not borrowed a single taka from banks, rather it repaid Tk 16,885 crore.
Finance Minister AMA Muhith said several times that the rate of interest on savings instruments would be cut.
The finance ministry has also formed a committee to deal with the issue.
The finance ministry official said various quarters, including the bureaucrats are opposed to lowering the rate of interest as it would affect low-income groups.
In June, Agriculture Minister Matia Chowdhury criticised Muhith's plan to cut the interest rate on saving certificates.