Sales of savings tools rising fast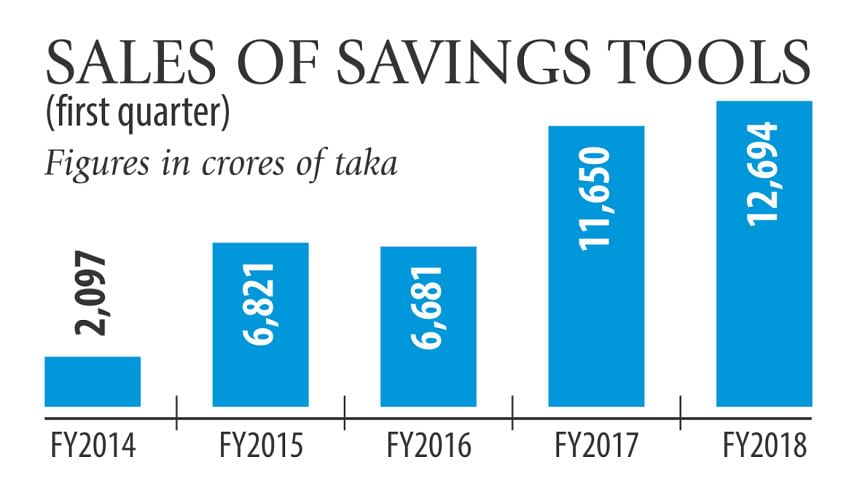 Net sales of savings certificates increased 8.91 percent year-on-year to Tk 12,694 crore in the first quarter of the fiscal year as people continue to park their funds in the instrument to enjoy high returns.
Banks are offering hardly 7 percent interest rate on fixed deposits nowadays whereas the rates offered by the national savings certificates are between 11.04 percent and 11.76 percent.
Net sales of savings tools in fiscal 2016-17 hit an all-time high of Tk 52,327 crore -- more than 2.5 times higher than the government's target of Tk 19,610 crore.
The trend would continue this year if the government does not slash the rates on savings certificates, said a senior Bangladesh Bank official.
Higher borrowing through the savings instruments are pushing the government's interest liability up.
If the government borrows from the banking system, it would cost them between 2.98 percent and 8.07 percent only.
Yet, the government's net borrowing from the banking sector was in negative in the first quarter of the fiscal year.
Between the months of July and September, the government borrowed Tk 2,132.30 crore from banks and repaid Tk 5,270.20 crore to take its net borrowing from the channel to Tk 3,137.90 crore in the negative.
Under the circumstances, the majority of the banks are flush with liquidity, the BB official said.
"The banks will get a respite if the government started borrowing full-fledged from them," he added.
The sales of savings tools might cross Tk 70,000 crore this fiscal year if the government does not recalibrate the interest rate on them, said Ahsan H Mansur, executive director of the Policy Research Institute. "I have recently analysed the savings tools of different countries in details. Many countries including India and Pakistan set the rate calculating their interest rate on treasury bills and bonds meaning that the rate is highly floating."
For example, Pakistan resets the rate on its savings tools every three months by calculating the average rate of the country's three-month T-bill, he said.
India also set the interest rate on the savings tools on the basis of its interest rate of treasury bills and bonds, he said.
"Our government may set the rate on the tools in accordance with the average interest rate of one-year treasury bonds."
The excess investment in the tools, which creates an interest burden on the government, will decrease if the neighbouring countries' strategy is followed, Mansur added.