Remittance rebounds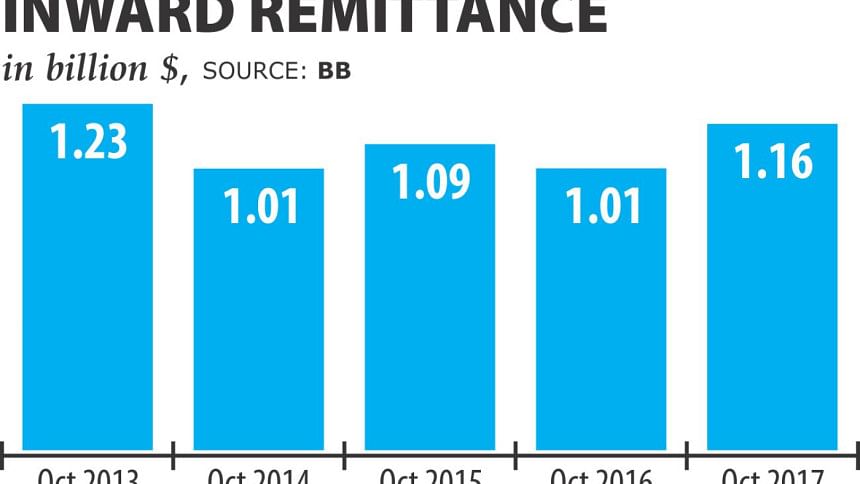 Remittance rebounded in October after hitting a seven-year low the previous month, bringing a sigh of relief for the government.
The Bangladeshi diaspora sent home $1.16 billion last month, up 14.85 percent from a year earlier and 35.83 percent from the previous month, according to data from the central bank.
Remittance is a major source of foreign currency for Bangladesh and its descent since fiscal 2015-16 has progressively become a matter of concern for the government.
Although the official explanation being pushed for the shrinking remittance inflow is the persistent weakness in the Gulf Cooperation Council economies, where the majority of the migrant workers reside, it does not present the complete picture.
The growing popularity of digital "hundi" among migrant workers is another reason for the lower official remittance figures in recent times.
Digital hundi is an illegal transfer of funds from abroad. The remitter deposits the amount to a vendor in his/her host country, who then instructs his network in Bangladesh to deposit the sum to the accounts of mobile financial service (MFS) providers.
Through this illegal channel the recipients in Bangladesh tend to get a bigger sum than what they would have if the money was sent through the official channel.
The reason for the jump in October's inflows, Bangladesh Bank officials say, is that the various initiatives that the government and the central bank took to tackle the growing popularity of digital hundi in recent times are finally starting to bear fruit.
For instance, the central bank has asked MFS providers to suspend suspicious accounts of agents, who settle cross-country financial transactions by bypassing the money laundering and terrorism financing laws.
bKash, the leading MFS provider, has suspended the activities of more than 2,000 agents in line with the central bank directive, said Habibur Rahman, a general manager of the BB.
"More suspicious accounts will be suspended," he said.
The central bank has asked banks to recruit agents abroad to collect remittances from migrant workers.
It also requested the Bangladeshi embassies in different countries to take measures to encourage migrant workers to send their hard-earned income through the proper banking channel.
"More steps will be taken to boost the official remittance figures," Rahman added.
October's inflows take the receipts so far in the fiscal year to $4.55 billion, up 7.05 percent from a year earlier.
Remittance inflow in fiscal 2016-17 was the lowest in six years, which plunged the country's current account balance in the deficit zone.
The current account balance registered a deficit of $1.48 billion in fiscal 2016-17 for the first time in five years. 
Expatriate Bangladeshis sent home $12.77 billion in fiscal 2016-17, down 14.47 percent year-on-year.