Remittance inflow from Middle East slows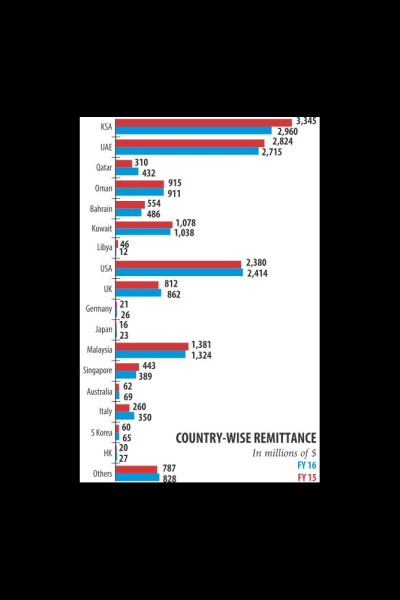 Remittance inflow from Middle Eastern countries declined last fiscal year but receipts from the US and the UK increased.
In fiscal 2015-16, $8.55 billion of remittance flew in from the Middle Eastern nations, down 5.17 percent year-on-year. Still, the highest amount came from Saudi Arabia followed by the UAE.
Remittance from the other regions increased 1.38 percent year-on-year in fiscal 2015-16.
Remittance slipped 2.54 percent year-on-year to $14.93 billion last fiscal year, as weak oil prices continue to bleed countries hosting the majority of Bangladeshi migrant workers.
This was the sixth time remittance, Bangladesh's most reliable source of foreign funding, went negative since 1975-76, according to Bangladesh Economic Review. Last year, manpower exports increased but remittance declined.
The outflow of migrant workers jumped more than 62 percent year-on-year to 6.84 lakh in fiscal 2015-16.
The decline in remittance in fiscal 2015-16 appears to be mainly a result of the prolonged decline in oil prices, said Zahid Hussain, lead economist of the World Bank's Dhaka office.
The oil price decline, which plummeted to its historic low in January this year from an all-time high in mid-2014, affected incomes in Gulf Cooperation Council economies and subsequently weakened the demand for migrant workers.
But Husain said the remittance from Middle East countries fell due to their currencies' depreciation against the dollar.
New manpower migration to western countries, especially the US and the UK, is very small, said bank officials. Only the existing manpower in those countries sends remittance to their relatives back home.
The economy of the US and the UK somewhat recovered last fiscal year, which may have increased the inflow of remittance from those countries, Hussain said.
"Unemployment has fallen in recent times in these countries, which also may have a positive impact on remittance."
Bank-wise, remittance data shows that the highest amount came through Islami Bank, followed by three state banks: Agrani, Sonali and Janata.
Some $3.64 billion came through Islami Bank, the majority of which were from the Middle Eastern countries.
Agrani received $1.64 billion, Sonali $1.39 billion and Janata Bank $1.26 billion.
The remittance inflow through each of the banks dropped last fiscal year.
There are about 70 lakh Bangladeshis currently working abroad, according to the budget document. Of them, 31 percent are skilled, 14 percent semi-skilled, 2 percent professionals and 52 percent lowly skilled.