Remittance gets boost from women workers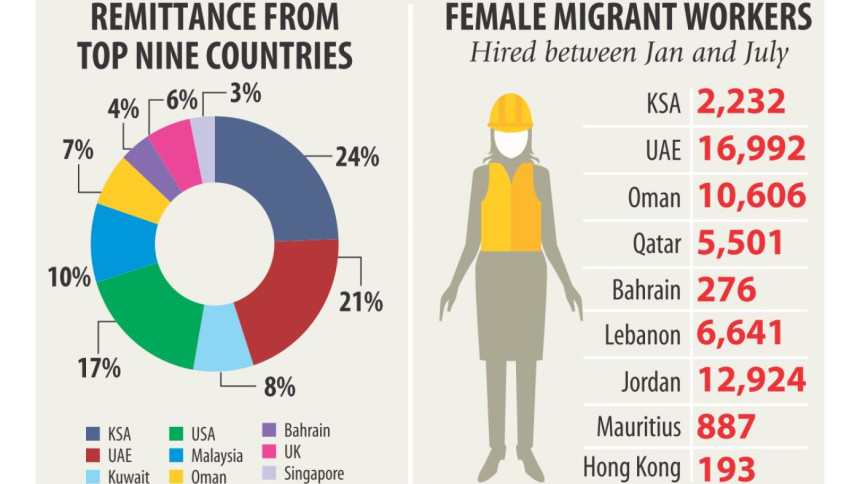 The rise in wages in the US and an increasing intake of women workers by the Middle Eastern countries have sent remittance soaring last fiscal year.
Bangladeshi migrant workers residing in Saudi Arabia, the UAE, Qatar, Oman, Bahrain, Kuwait, Libya and Iran together sent home $9.072 billion last fiscal year, up 8 percent year-on-year, according to figures from Bangladesh Bank.
The amount accounted for about 60 percent of the total $15.32 billion sent in by the migrant workers in fiscal 2014-15.
The remittance flow from Saudi Arabia, the UAE, Qatar, Oman and Bahrain all had positive growth, while it dipped slightly from Kuwait.  
Migrant workers living in the US sent in $2.38 billion last fiscal year, which was $2.32 billion a year ago. Remittance income from Malaysia also grew, from $1.06 billion to $1.38 billion.
Those living in the UK sent home $812 million in fiscal 2014-15.
The resumption of hiring of Bangladeshi workers by Saudi Arabia as well as more workers finding jobs in Qatar and Oman particularly played a key part in the upsurge in remittance income from these countries.
Saudi Arabia hired 18,231 workers from Bangladesh in the first seven months of 2015 and the UAE 18,372 workers, according to state-run Bureau of Manpower, Employment and Training (BMET).
In the same period, Oman employed 70,225 workers, the highest among the countries importing workforce from Bangladesh, with Qatar coming in second with its recruitment tally of 66,655 Bangladeshis.
Bahrain, Lebanon and Jordan took in 16,002, 11,842 and 14,064 workers respectively. 
Singapore hired 34,225 workers from Bangladesh, Malaysia 8,511, Iraq 9,700, Brunei 4,019 and South Korea 1,262. 
The higher number of female workers going abroad for jobs also boosted remittance income.
Saudi Arabia hired 2,232 women workers in the first seven months of this year, compared to 13 last year. The UAE hired 16,992, Jordan 12,924, Oman 10,606, Lebanon 6,641, Qatar 5,501 and Bahrain 276 women workers.
Some 308,364 Bangladeshi workers, including 56,389 women, found jobs abroad between January and July, according to BMET.  There are nearly 1 crore Bangladeshis living abroad. Their contribution accounts for about 66 percent of the country's foreign currency reserves, providing Bangladesh a strong external stability.