Remittance finally looks up in Jan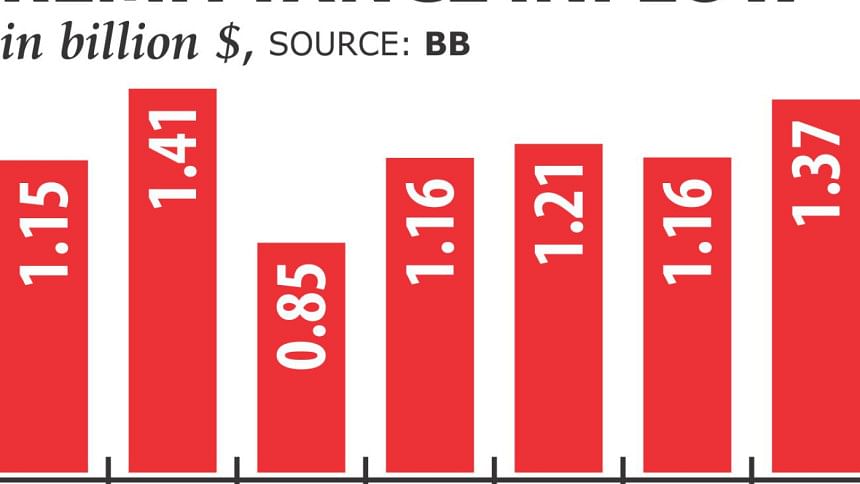 Remittance is finally snapping out of its two-year-long slump, hitting a five-month high in January on the back of the depreciation of the taka against the US dollar.
Last month, migrant workers sent home $1.37 billion, up 37 percent from a year earlier and 18.55 percent from a month earlier, according to Bangladesh Bank data.
Remittance is a major source of foreign currency for Bangladesh and its descent since fiscal 2015-16 has become a matter of concern for the government. Last fiscal year, the receipts were the lowest in six years.
January's inflows take this fiscal year's receipts so far to $8.31 billion, up 15.82 percent from a year earlier.
The higher inflow reflected a confluence of factors, including the BB measures to bring remittance through banking channel by way of reducing the transaction cost, said Faisal Ahmed, chief economist of the BB.
A strong pick-up in global economic activities, especially in the Middle Eastern nations, helped the country maintain the upward trend, he said, adding that the market-based exchange rate also had a positive impact on the receipts.
"The near and dear ones of the Bangladeshi diaspora have been getting a favourable rate over the last few months," said Syed Mahbubur Rahman, managing director of Dhaka Bank.
The local currency has been depreciating heavily against the American greenback for the last few months, prompting Bangladeshis living abroad to remit more money through the formal channel.
On July 2 last year, the first business day of fiscal 2017-18, interbank exchange rate stood at Tk 80.60. On January 31, it was Tk 82.90.
The central bank has recently strengthened its surveillance to check hundi, the illegal channel used to move funds cross-border, Rahman said.
"This had a good result on the remittance flow," said Rahman, also the chairman of the Association of Bankers, Bangladesh, a forum of banks' chief executive officers.
MA Halim Chowdhury, managing director of Pubali Bank, echoed the same.