Real estate fair ends on high note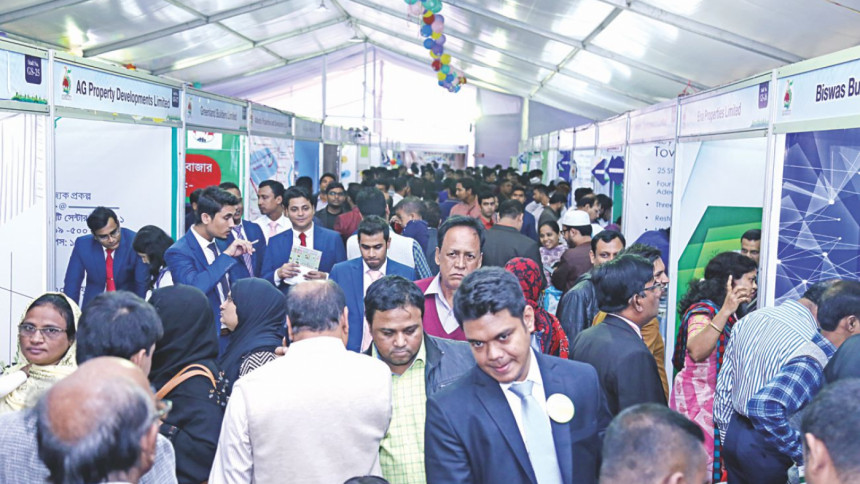 The five-day real estate show that saw a huge turnout and created enthusiasm among the sector people came to a close yesterday.
The Real Estate and Housing Association of Bangladesh organised the fair at Bangabandhu International Conference Centre.
Visitors showed their renewed interest in the housing sector that faced a slowdown in recent years, REHAB said in a statement.
Small and medium apartments were much in demand at the fair, while developers also offered discounts to attract potential customers.
There were 175 stalls at the show visited by more than 25,000 people, the association said.
Financial institutions that have lending operations in the housing sector also took part in the fair to present additional benefits to the visitors.
Participants said many visitors have taken project brochures and they hope the potential buyers will contact them in future to make a purchase.
Apart from housing projects, developers also showcased various civic facilities, such as educational institutions, community centres, gymnasium and mosques.
"We got a huge response this time," said Kamal Mahmud, co-chairman of the REHAB media committee. "The number of visitors beat our expectations."
Riding on recent political stability and price corrections, Bangladesh's real estate sector may make a comeback this year, after three years of downtrend, industry people said.
Since 2012, the once-burgeoning sector has been in difficult times due to political instability, a bearish stockmarket, and a lack of adequate gas and electricity supplies.