Private sector key to SDGs: economist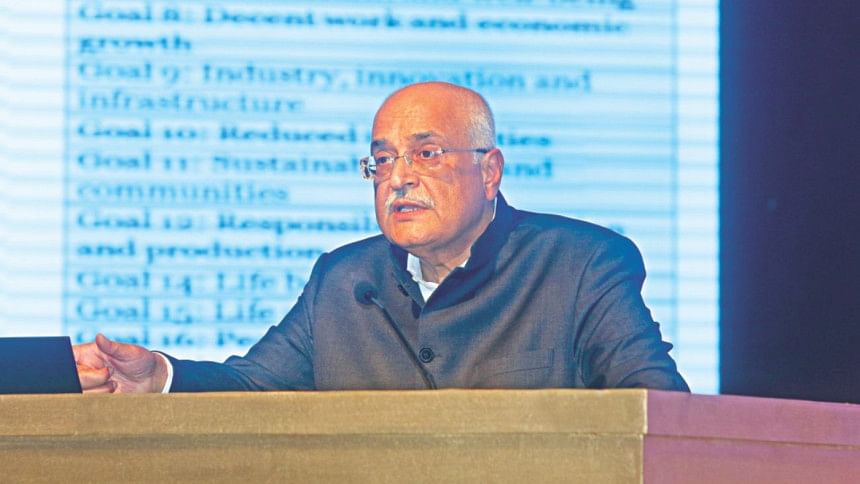 The active engagement of the private sector and increased domestic resource mobilisation are essential in attaining the Sustainable Development Goals by 2030, a noted economist said yesterday.
"The year 2030 is a great opportunity to integrate the private sector in the development process," said Debapriya Bhattacharya, distinguished fellow of the Centre for Policy Dialogue.
Bhattacharya's comments came at a session styled 'Delivering Sustainable Development Goals in Bangladesh: Concepts, Processes and Challenges', organised by Dhaka Chamber of Commerce and Industry at Radisson hotel in the capital.
"It is a multi-stakeholders' approach," he said at the session, which was part of the DCCI International Conference. Set by the United Nations in 2015, SDGs comprise 17 goals and 169 targets for countries to reach over the next 15 years.
Of the 17 goals, eight are better integrated in the existing national prioritisation process in Bangladesh, said Bhattacharya, also the chair of Southern Voice on Post-MDG International Development Goals.
But the nine others -- including good health and well-being, decent work and economic growth and peace, justice and strong institutions -- are less integrated in plans and policies.
He said ensuring additional finance is important for attaining the SDGs.
"The domestic resources will play a critical role. Foreign aid will not be there as it was promised," said Bhattacharya, also the convenor of the Citizen's Platform for SDGs, Bangladesh, a platform whose objective is to contribute towards the delivery of SDGs and enhance accountability in the implementation process.
The finance needed for SDG implementation should come from both public and private sectors, he said.
"Tax-GDP ratio will become critical," he said, adding that revenue-GDP ratio should be increased to at least 18 percent from the present 12 percent.
"It is not an impossible thing," said Bhattacharya, citing the example of Tanzania, another least developed country that has 18 percent tax-GDP ratio.
Bhattacharya stressed the need for curbing the illicit outflows, which stood at $5.6 billion on average during 2004-2013 -- 6.4 percent of Bangladesh's gross domestic product.
Skilled workers, decent job, healthy human resources and better institutions are necessary for economic growth and development, said Hossain Zillur Rahman, executive chairman of the Power and Participation Research Centre.
The government will disclose a report on SDGs in July next year on what Bangladesh had done, said Md Abul Kalam Azad, principal coordinator for SDGs at the Prime Minister's Office.
Apart from five-year plans and annual budget, the government also signs annual performance agreements with all ministries and divisions to monitor progress and improve performance. "Each action of ministries is being translated into data," he said.
The government has also targeted to improve the country's ease of doing business ranking from existing 176 to 99 by 2021, Azad added.
"In one month time, we will chalk out our plan," Azad said, adding that the government also plans to set up one stop service centres so that doing business could be easy. "The draft law is done. We will consult with the investors and put it before the cabinet for approval," he said.
Foreign Secretary Md Shahidul Haque said, due to SDGs, businesses will come under increasing scrutiny and monitoring by global bodies.
Bjorn Lomborg, president of Copenhagen Consensus Centre, and Farzana Chowdhury, managing director and chief executive of Green Delta Insurance, also spoke.