Private sector credit growth remains steady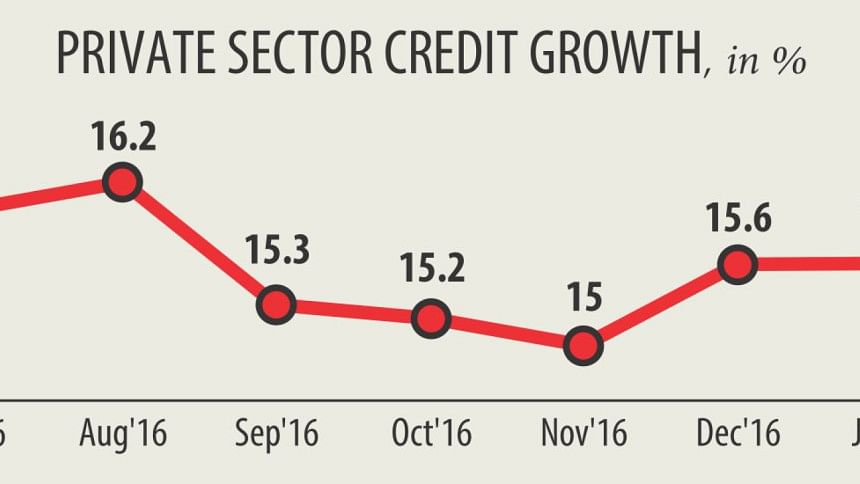 Private sector credit growth remained steady in January amid higher import and rising business activities in the country.
In January, private sector credit growth stood at 15.6 percent, which is almost identical to the previous month's figure.
Since September last year, the credit growth has been hovering around the 15-percent mark amid a stable political situation and lower lending rates.
The Bangladesh Bank has kept the private sector credit target at 16.5 percent for this fiscal year, which its projections say will be enough to support the GDP growth target of 7.2 percent.
Total credit to private sector stood at Tk 719,000 crore at the end of January, up from Tk 717,019 crore the previous month, according to data from the BB.
"But the matter is whether the credit is going to the manufacturing sector, which plays a role in employment generation," said Mohammed Nurul Amin, managing director of Meghna Bank.
Capital machinery imports increased due to the implementation of mega projects by the government, which contributed to the credit growth, he said.
In the first half of the fiscal year, letters of credit settlement for capital machinery imports soared 70 percent year-on-year to $2.86 billion.  
Meanwhile, public sector credit growth has remained negative in January as the government is taking money from savings instruments.
Public sector credit growth stood at 3.9 percent in the negative, far below the target of 14.3 percent set for March.
The lesser government borrowing led to piling up of liquidity in the banking sector, said a senior executive of a private bank.
This compelled banks to slash lending rates and offer consumer loans at lower interest rate, he said. In January, the weighted average lending rate in the banking sector stood at 9.85 percent, down from 9.93 percent in the previous month.
The lending rate of consumer loans stood at 9.75 percent in contrast to 9.83 percent in December last year.
The International Monetary Fund recently suggested the government reduce its reliance on high-cost savings instruments, which impedes modernisation of the financial sector and distorts the market.
"The authorities could consider whether there are better targeted and less costly alternatives that achieve the government's social policy goals without distorting financial markets," the IMF said.