Private sector credit demand buoyant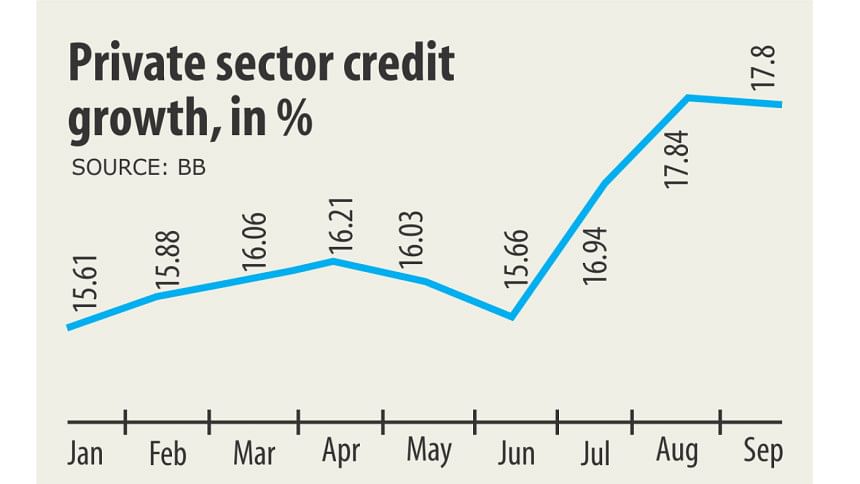 Private sector credit growth stood at 17.8 percent in September in continuation of the high growth registered in the last few months due to increased demand for credit from the business community.
Although the growth in September was 0.04 percentage points lower than a month earlier, the figure is still well above the target of 16.2 percent set in the monetary policy for the first half of the fiscal year.
Private sector credit growth hit a 58-month high in August: 17.84 percent.
The banks have recently observed a spike in applications for large-scale loans to implement infrastructure projects initiated by both the private and public sectors.
The business community has recently shunned the go-slow policy to set up new plants or expand the existing ones, which has made the private sector vibrant, said Mamun-Ur-Rashid, managing director of Standard Bank.
Last month, Standard Bank sanctioned fresh loans amounting to Tk 200 crore and plans to give the green light to another Tk 150 crore worth of loan applications this month.
The majority of the loans are for the large and medium-scale industrial plants, he said.
The middle-class people are also taking loans to meet their growing consumption needs, which helped banks to keep the upward trend in disbursing loans.
The banks set the interest rate for consumer credit like personal loans at 8 percent to 11 percent, which tempts customers.
The large import bills in recent months also played a role in increasing the credit growth, Rashid added.
The settlement of letters of credit stood at $11.82 billion in the first three months of the fiscal year, up 1.89 percent from a year earlier, according to data from the Bangladesh Bank.
In the last few years, banks had maintained a cautious stance in disbursing loans, said Md Arfan Ali, managing director of Bank Asia.
"Banks are now financing the infrastructure projects initiated by the government and private sector," he said, citing power plants as an example.
At the end of September, total outstanding loans in the private sector stood at Tk 8.01 lakh crore in contrast to Tk 6.80 lakh crore a year earlier.
Though the private sector saw remarkable credit growth, the public sector credit growth was 16.91 percent in the negative in September.