Pran to export $3m of cassava to New Zealand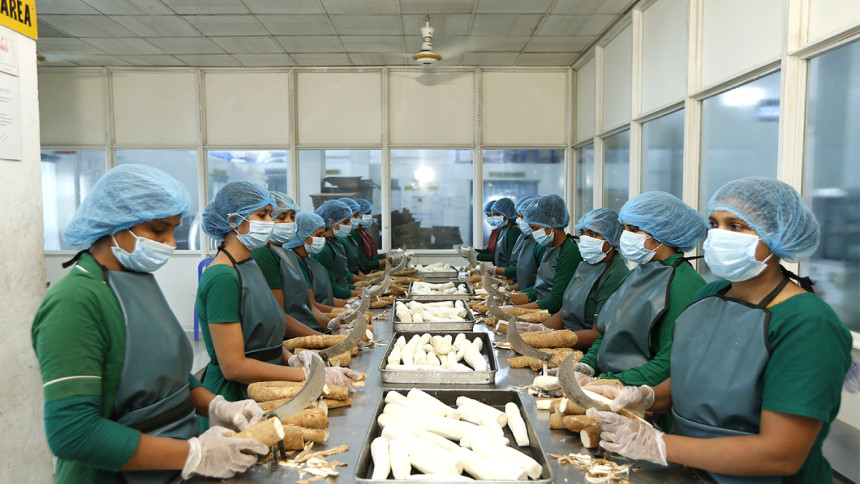 Pran, a food processor and agribusiness company, has bagged its maiden $3 million export order from New Zealand for cassava, a tuber used to produce starch and glucose.
Cassava is a staple crop in parts of the world. It is used much like potato and admired for its versatility in cooking.
Md Mizanur Rahman, chief of export at Pran, said the company has secured the contract from Khan's 2nd Generation Ltd, an Auckland-based company.
The cassava will be shipped off to New Zealand this month through Chittagong port.
"Necessary preparations have already been taken for the export," Kamruzzaman Kamal, director of marketing at Pran-RFL Group, said in a statement yesterday.
Sylvan Agriculture Ltd, a unit of Pran, has recently signed a deal with the Australian company.
As per the deal, Khan's 2nd Generation Ltd will import the tuber crop for the next two years, said Rasedul Hasan, country business manager at Pran Australia.
Last fiscal year, Pran produced about 5,000 tonnes of cassava and aims to expand cultivation thanks to the positive response from contract farmers.
Mustafezur Khan, a director of Khan's 2nd Generation Ltd, said cassava is a popular and nutritious food in New Zealand.
"Earlier, we used to import cassava from Fiji. But the quality, taste and colour of Pran's cassava are good."
Thousands of farmers in Tangail, Mymensingh, Comilla, Habiganj and Khagrachhari districts are farming the woody shrub, locally known as Shimul potato, to boost their incomes under a special scheme by Pran.
Pran is trying to encourage local farmers to grow cassava. In 2014 and 2015, the company purchased 40,000 tonnes of cassava from farmers directly.
The company has also set up a large plant in the northeastern district of Habiganj to produce glucose and starch.
Bangladesh currently depends on imports of starch and glucose, meaning the local production from cassava will help save a huge chunk of foreign currency.