Potato farmers hard done by
Consumers are not benefitting from huge price fall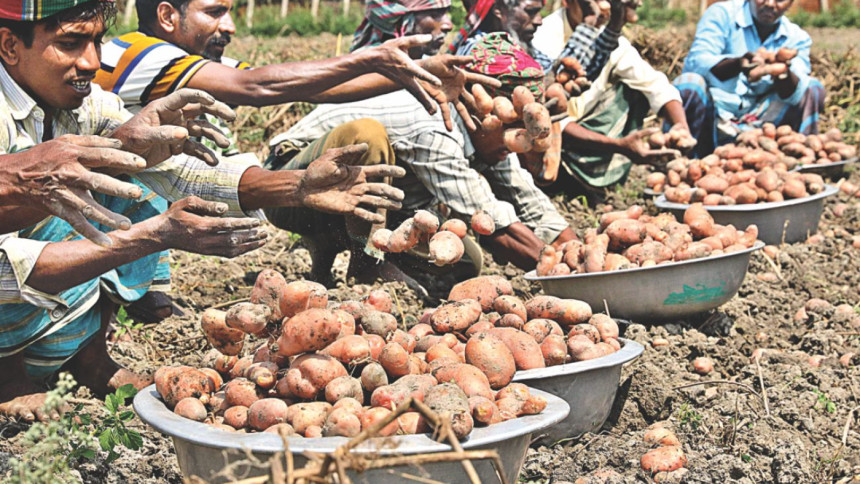 Although farmers and cold storage operators are incurring losses for the slump in potato prices, consumers are not seeing any of the benefit.
The price of the tuber has fallen to less than Tk 2.5 a kilogram at the gates of cold storages, whereas people in Dhaka city have to count at least Tk 15-20 for a kilogram from retailer.
This suggests that 85 percent of the prices that the end consumers pay go to the pockets of the middlemen -- and not the industrious growers.
Asked about the huge price difference, a retailer at Gopibag kitchen market said they keep Tk 1-2 each kilogram as margin.  The retailer, who asked not to be named, demanded Tk 15 for one kilogram of potato yesterday.
Mohammed Sohag Bepari, who was seen selling potato in batches of five kilograms for Tk 60-65 at the Karwan Bazar wholesale vegetable market on Wednesday, said he bought an 80-kilogram sack of potato for
Tk 530 from a wholesale depot situated several-hundred yards from their store.
Later, Bepari and his father fixed prices of potato by adding operational costs that include monthly rents for space, electricity bills and other expenses. He roughly estimated Tk 2-3 per kilogram as cost.
"How could we meet our family needs if we do not make Tk 2 as profit per kilogram or Tk 100-150 per sack?" said Bepari, who hails from Munshiganj, one of the main potato producing districts.
Over at Munshiganj, the vegetable was selling at Tk 360-400 a sack at the cold storage gates on Wednesday. 
Traders said the prices of potato have risen slightly for damage to plantations in some areas owing to heavy rainfall early last week, reports our correspondent from Munshiganj.
In addition to paying for labour cost, traders have to pay Tk 50 to transport each sack of potato to Karwan Bazar wholesale market. The wholesaler's commission is added on top of that, he said.
"By making too much profit, retailers have ruined both farmers and us," said Md Mosharaf Hossain, president of Bangladesh Cold Storage Association (BCSA).
A couple of days ago, a retailer had demanded Tk 20 per kilogram, he said, while putting the blame on the absence of a market monitoring mechanism by the government.
"Traders are making higher profits when we are suffering from losses," said Sajedur Rahman, a farmer at Khetlal in Joypurhat, who had to sell 50 bags of stored potato for Tk 200 on December 7 owing to a slump in demand for the arrival of fresh harvests.
Farmers bagged 1.02 crore tonnes of potato this year, up 8 percent from a year earlier. Of the produce, 53 lakh tonnes were stored in the cold storages, mainly in Munshiganj and the northern districts, according to the BCSA.
Until last week, 31 lakh tonnes of the vegetable have been sold and the BCSA fears that 15 lakh tonnes of potato will remain unsold this year.
Rahman grew potato on more than two acres last season. He stocked a total of 700 bags of potato in the cold storage along with 350 bags produced in his own farm for selling during off-season.
The highest he got for each sack is Tk 950 against the cost of Tk 1,200.
"Our backbones are broken," he said, citing that his total loss from potato would be Tk 2.5 lakh this year.
The BCSA blamed the high production and a lack of demand for exports behind the build-up of unsold stock this year. It estimates that the total loss would exceed Tk 12,000 crore this year.
Because of the price fall, many farmers and traders are struggling to pay the rent for cold storages and repay loans.
"Some of our colleagues did not even take out their potato from cold storages as the prices are less than the storage charges," said Gulzar Rahman, another farmer at Joypurhat.
The BCSA said there is no option but to throw away the unsold potato as only three weeks remain for marketing the vegetable.
Up to 80 lakh tonnes of potato are consumed domestically a year and the government was aware about overproduction, according to the BCSA president. "A decision was necessary for the sector."
The government could have bought the excess potato to distribute under the social safety net schemes or among the Rohingyas to cushion the farmers against losses, Hossain said.
"Both the farmers and consumers could also benefit if there was monitoring in the market," he added.