UoL degrees with London School of Economics' academic direction, now at Universal College Bangladesh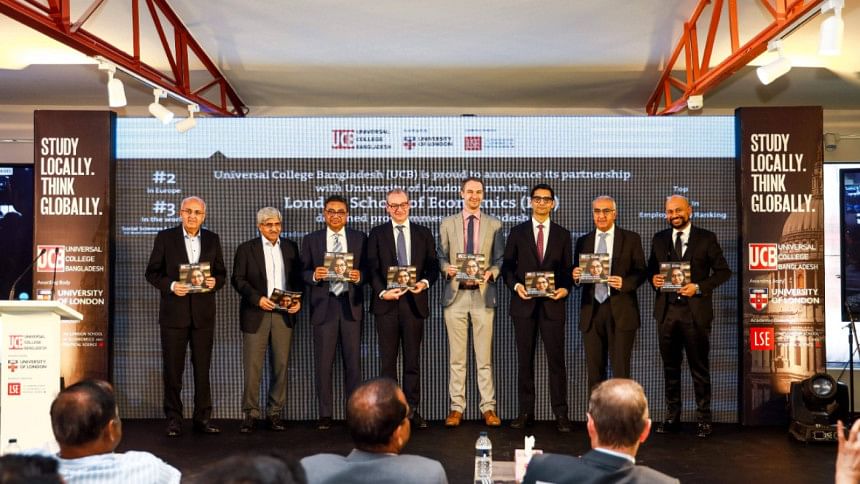 With the aim of providing world-class affordable education in Bangladesh, Universal College Bangladesh (UCB), the first Ministry of Education approved international education provider in the country, has partnered exclusively with the University of London (UoL) for the launch of multiple bachelor's degrees with academic direction from the most notable London School of Economics (LSE), ranked #3 globally for social sciences. LSE's alumni and former staff include 18 Nobel Prize winners and 37 past or present Heads of State; the legendary institution also has a 99.9/100 employability score on QS Global University rankings.
With 100% curriculum and testing from the London School of Economics, the offered courses at UCB initially include BSc Business and Management, BSc Finance and BSc Accounting and Finance. Apart from significant savings in tuition fees, eligible students will get up to 40% scholarships. Students would also become part of an elite global community of 100,000+ plus UoL alumni across 200 countries.
An inauguration event was held in this regard on October 27, 2022, at the state-of-the-art UCB campus (SA Tower, 1 Gulshan Avenue Dhaka-1212) with leading dignitaries in attendance, including Dr Dipu Moni, MP, Minister of Education, Mr Mohibul Hasan Chowdhury, MP, Deputy Minister of Education, Mr Tipu Munshi, MP, Minister of Commerce, HE Mr Robert Dickson, High Commissioner of UK to Bangladesh, Professor Wim A Van der Stede, Dean, London School of Economics Extended Education and others.
Mr Bob Kundanmal, Chairman, STS Group, said at the launch, "This remarkable new phase of international in-country education has been possible for STS Group due to the blessing and support of the Prime Minister of Bangladesh Sheikh Hasina. Her foresight in permitting foreign education is one of the stellar pillars of her vision to assist Bangladesh to continue its high-growth trajectory and achieve the 2041 high-income nation goal, hand in hand with sustainable development goals."
Mr Kundanmal also thanked both the Minister of Education, MP Dr Dipu Moni, and the Deputy Minister of Education, MP Mr Mohibul Hasan Chowdhury, apart from University Grants Commission. They all are key architects in implementing the now globally acclaimed Strategic Plan for Higher Education 2018-2030. The plan showcases how global affordable education in the country would not only provide invaluable options to the more than 1 million students graduating from schools every year but also – and most importantly – allow the girl child of the family parity in access to such world-class options right at their doorstep, an issue very close to Dr Dipu Moni's heart. No doubt, given that Bangladesh is one of the few nations where the 165 million population has more women than men, this has the potential to become nothing short of a case study for other nations.
Mr Zarif Munir, Senior Managing Director, Boston Consulting Group, and Director at UCB, said in his keynote speech, "Such programs can potentially save invaluable dollar reserves for a nation that annually repatriates close to $4.5 billion on outward tuition fee remittances (for Bangladesh students studying abroad)."
Such a remarkable transformation of the educational landscape by the Prime Minister and her respective Education Ministers is not going unnoticed said Dr Dipu Moni during the UoL/LSE launch ceremony. She also added, "This fast-growing nation is now being viewed as a most-preferred destination for global equity, global institutions and global-skilled manpower – key pillars for Bangladesh's ongoing thundering industrial revolution."