OPDs and Sightsavers launch Equal Bangladesh campaign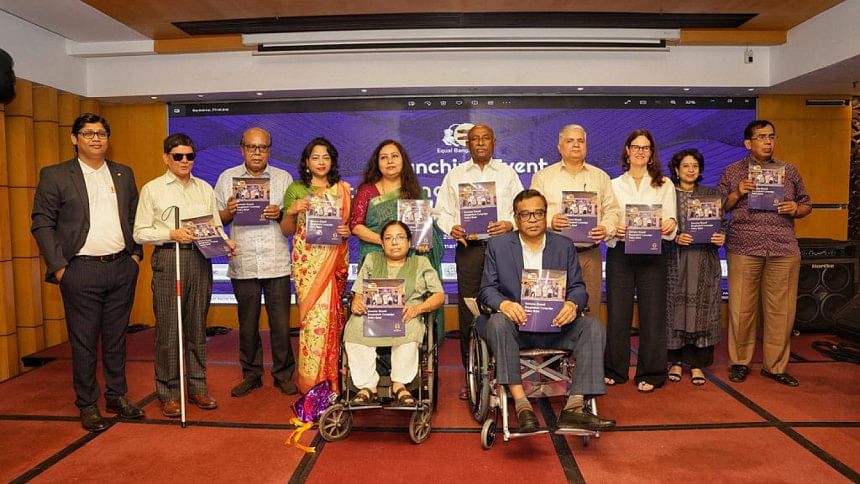 Organisations of people with disabilities (OPDs) and Sightsavers officially launched the Equal Bangladesh campaign at a notable event held on May 11, 2023, at the Hotel Amari in Dhaka. The launch event was graced by the esteemed presence of Md. Ashraf Ali Khan Khasru, the State Minister of Social Welfare of Bangladesh.
The Equal Bangladesh Campaign is a coalition campaign of over twenty organisations and seeks to influence policymakers to adopt measures that protect and enhance the rights of persons with disabilities, ensuring that they have equal opportunities and access to resources, employment, and public services through the effective implementation of the Rights and Protection of Persons with Disability (RPPD) Act 2013 and the National Action Plan (NAP) on Disability. It is led by a steering committee of elected OPD members with Sightsavers Bangladesh forming the campaign secretariat. The twenty organisations of the campaign include National Council of Disabled Women, National Grassroots Disabilities Organizations, Centre for Disability in Development, UNDP, Down Syndrome Society of Bangladesh, Disabled Child Foundation, Centre for Services and Information on Disability, Disabled Child Foundation.
The launch event witnessed a diverse audience, including representatives from government agencies, civil society organisations, disability rights activists, and persons with disabilities themselves. The attendees participated in panel discussions, captivating presentations, and inspiring stories that highlighted the challenges faced by persons with disabilities in Bangladesh and the steps needed to address them effectively. Md. Nurul Amin, NDC, Chief (Additional Secretary), General Economics Division, Planning Commission, Md. Zehsan Islam, Joint Secretary at the Ministry of Social Welfare and Jasmin Nahar, Director Jatiya Protinbondhi Unnayan Foundation (JPUF), attended the event as special guests.
The chief guest of the event, Md. Ashraf Ali Khan Khasru, the State Minister of Social Welfare delivered a speech at the event, expressing his support for the campaign and emphasising the government's commitment to implementing disability rights and inclusion. He applauded the collaborative efforts of OPDs and Sightsavers in spearheading the Equal Bangladesh campaign, and highlighted the importance of collective action to bring about lasting change.
Throughout the launch event, prominent speakers from both OPDs and Sightsavers shared their insights, experiences, and expertise in advocating for disability rights and equality. Amrita Rejina Rozario, country director of Sightsavers Bangladesh, and Sightsavers global head of campaigns Tessa Murphy, Md. Saidul Huq, executive director of BERDO, Khandaker Jahurul Alam, executive director of CSID, AHM Noman Khan, executive director of CDD, amongst others spoke in the event. Ayon Debnath, Campaign Lead at Sightsavers made the keynote presentation.
Nasima Begum, chair of the steering committee of Equal Bangladesh campaign said,
"The Equal Bangladesh campaign stands out for its unique approach as it has successfully engaged all OPD networks of Bangladesh and aims to establish a strong connection with the government in order to collaborate effectively and ensure the rights of people with disabilities."
The Equal Bangladesh campaign seeks to collaborate with various stakeholders, including government bodies, and the media, to amplify its impact and support effective implementation of the RPPD Act and NAP on Disability.