'Mediterranean Food Safari' at Sheraton Dhaka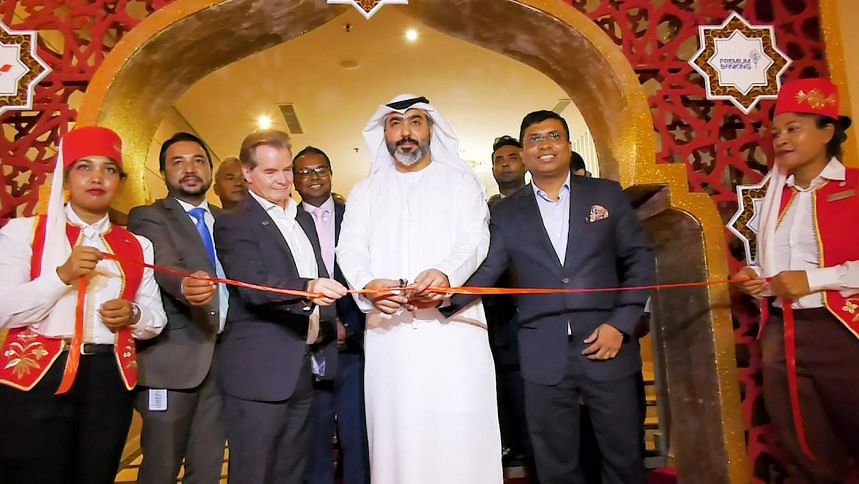 Sheraton Dhaka along with Brac Bank Ltd and VISA are hosting Mediterranean Food Safari to showcase the diverse flavours of the Mediterranean cuisine for the food lovers in Dhaka.
The Mediterranean Food Festival starts from June 8 and ends on June 18 at The Garden Kitchen restaurant of the hotel in Banani -- Sheraton Dhaka.
The inaugural ceremony of the festival was held on June 7 at The Garden Kitchen where high officials from the Embassy of United Arab Emirates, Brac Bank Ltd, VISA, Transcom Beverages Ltd, NovoAir, Grameenphone Ltd, food bloggers and media were present.
Abdulla Ali Abdulla Khaseif AlHmoudi (UAE ambassador) was the chief guest along with Md Shakawath Hossain (chief executive officer, Unique Hotel & Resorts PLC), Stephane Masse (general manager, The Westin Dhaka), Md Ashraful Alam (head of alliance products retail banking, Brac Bank), expatriate chefs specialised in the mediterranean cuisine and Sheraton were present on the occasion.
The Mediterranean Food Safari will only be available during dinner and the buffet is priced at Tk 8,500 net per person. B1G1 offers from 20+ bank partners will also be available during the festival which the guests can take advantage to enjoy the one-of-a-kind spread.