Grand finale of Digital Innovation Challenge for Women held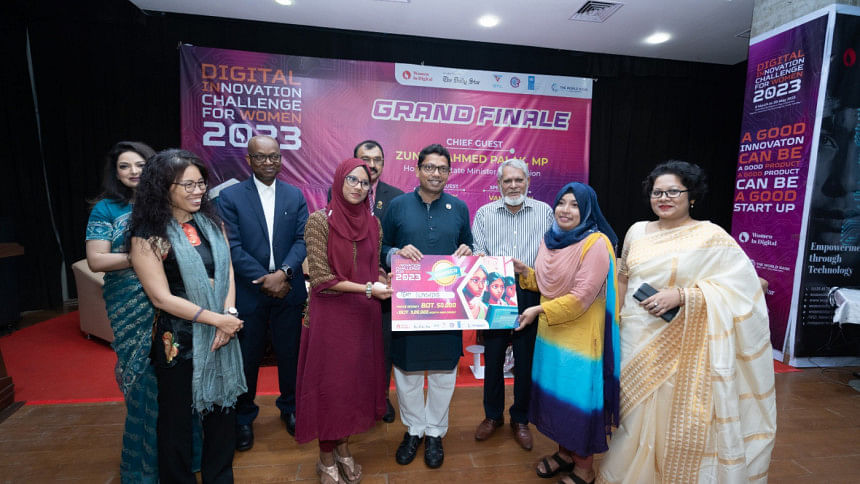 The fourth edition of the technology-based competition 'Digital Innovation Challenge for Women 2023' was held for women to inspire and encourage women in technology innovation. The final stage and grand finale of the competition was held on Saturday (May 20) afternoon in the Krishibid Institution Bangladesh (KIB) auditorium in the capital.
The competition is organised by Women in Digital in collaboration with the World Bank and UNDP Bangladesh Accelerator Lab. Media partner The Daily Star, in collaboration with IEEE Women Wings and Sumaiya Technologies Ltd.
At the beginning of the programme, there was a team presentation of the 8 teams participating in the final round of the competition. Members of Project Elisa, Team Climate Avengers, Team IST_Aspires, Team Visionaries, Team Sunshine, Team Lumenesins, Team Grande and Team Terminators participated in it.
The second part of the program was a panel discussion with invited guests. Head of UNDP Bangladesh Accelerator Lab M M Zimran Khan moderated this discussion titled 'Digital Skills for Life'. World Bank Digital Development Specialist Suparna Roy, Senior Social Development Specialist Sabah Moyeen, Bangladesh ICT Journalist Forum (BIJF) President Naznin Nahar, Babylon Resources Ltd. Chief Executive Officer and Co-Founder Liakat Hossain, Sumaiya Technologies Limited. (STL) Chairman & Co. -Founder Ripa R.Jahan.
In the third phase, the closing ceremony of the grand finale was held. State Minister for Information and Communication Technology Zunaid Ahmed Palak, MP was present as the chief guest at the event.
Abdoulaye Seck, Country Director for Bhutan and Bangladesh at the World Bank, congratulated the winning teams and informed them of the support they are providing to the government and ICT ministry.
According to Van Nguyen, Deputy Resident Representative, UNDP Bangladesh, there are now 14% of tech women working in Bangladesh's tech industry. She believes this type of competition may increase the number.
Four projects have emerged as the winners among the eight teams participating in the final round. First place went to the Sunshine Team, second place to Project Elisa, third place to Grande, and fourth place went to Luminescence. There were eight teams at the top: IST_Aspires, Visionaries, Sunshine, Grande, and Terminators.