bKash presents School of Influencers: Season 3 is set to launch in Chittagong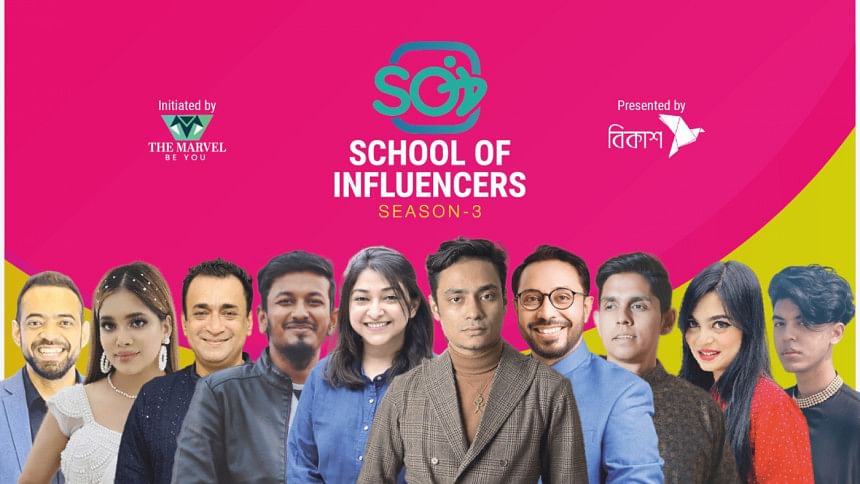 bKash presents School of Influencers: Season 3 will be held on 9th June 2023, at East Delta University, Chittagong.
The Marvel - Be You is thrilled to announce the launching of School of Influencers Season 3, following two consecutive successful seasons. This new instalment is set to captivate audiences like never before, as it expands its reach beyond Dhaka to the vibrant city of Chittagong in Bangladesh. With an aim and vision to help video content artists all around Bangladesh explore their full creative potential, The School of Influencer Season 3 is looking forward to making progress in covering areas outside of Dhaka. 
The event will have 4 sessions conducted by Rakin Absar, Pari Rukh Al Matin, Ashikur Rahman Tushar and Shuvashish Bhowmik, and Also Piran Khan, Smita Chowdhury, Monjurul Hoque will be present as panel members.
There will be four modules of the event. At first, "Content Planning and Scripting", which is focused on teaching participants how to create a working blueprint for their videos. Module 2, Short Form Content and Module 3, Long Form Content are specially designed to create better understandability of duration-based content for respective participants and to enrich their potential. Module 4, Photography focuses on enhancing participants' visual orientation. The modules will be conducted by industry experts. 
bKash presents School of Influencers: Season 3 has Somoy TV as Media Partner, Air Astra as Travel Partner, Triduate as Knowledge Partner, PaperRhyme as Service Partner, Haal Fashion as Print Portal partner, Barcode Café Chittagong as Food Partner and the event is initiated by The Marvel - Be You.