Ashshash Project: Winrock holds discussion with private organisations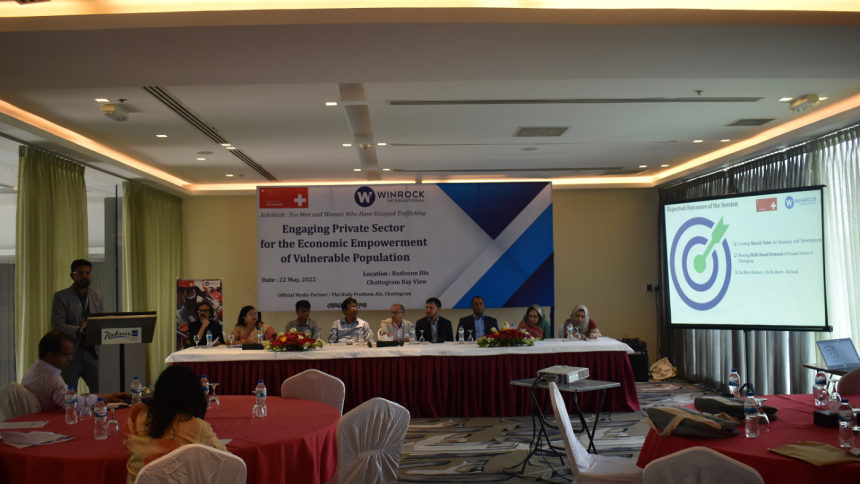 Winrock International's Ashshash project -- supported by the Embassy of Switzerland in Bangladesh -- organised a discussion-session with private sector organisations and their trade associations in a Chattogram hotel on Sunday.
The session engaged a wide range of private sector actors and institutions in the economic empowerment process of Ashshash's beneficiaries, by availing support through employment and/or enterprise development opportunities, said a press release.
Summarily, the session aimed to establish key-strategic partnerships with these organisations for policy-dialogue, technical cooperation, capacity building, knowledge-sharing, and the mobilisation of CSR resources.
Mahbubul Alam, president, Chittagong Chamber of Commerce & Industry, was present as chief guest with guests of honour were Md Nazrul Islam, executive director, Bangladesh Bank, Chattogram; Md Nadimul Haque, director, CEPZ; Md Almas Shimul, director and additional MD, GPH Ispat Ltd; Mohammed Zahirul Islam, managing director, PHP Group of Industries; Jasmine Sultana Paru, chief executive, ELLMA; Dr Munal Mahbub, director, FBCCI, Chattogram; and Syed Nazrul Islam, first vice president, BGMEA.
Besides, Dipta Rakshit, team leader, Winrock International -- Ashshash, was present at the session moderated by Bishwajit Chowdhury, joint editor, the Prothom Alo.