Ctg real estate fair bags Tk 238cr orders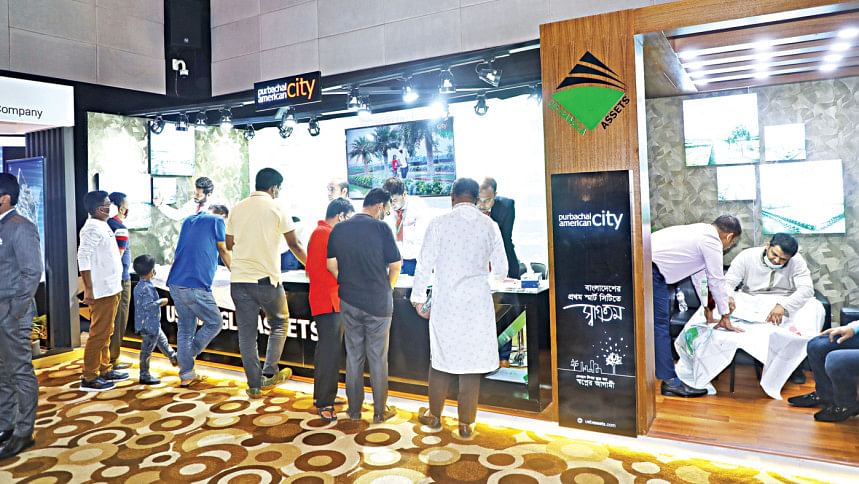 A four-day housing fair styled REHAB Chattogram Fair 2021 ended in the port city yesterday recording Tk 238 crore in booking orders and sales and with organisers satisfied over the visitor turnout at the first such event following the pandemic's outbreak.
The Real Estate and Housing Association of Bangladesh (REHAB) organised the fair at Radisson Blu Chattogram Bay View.
According to the organisers, over 12,000 people visited the fair, most of whom actually tried to know the current prices of apartments and about other facilities real estate firms were offering.
REHAB Chattogram Regional Committee Chairman Md Abdul Kauiam Chowdhury said the turnout exceeded their expectations concerns over the pandemic was still prevalent.
The participating firms hoped to do good business in the coming months as the fair showed promise of many potential customers.
Dhaka-based Amin Mohammad Group showcased 68 of their ongoing projects, including one in Chattogram.
Mohammad Sayfur Rahman Mukul, manager (marketing and sales), informed that they sold six plots in Dhaka worth Tk 7 crore and two residential apartments worth Tk 3 crore at their lone port city project.
Epic Properties displayed 214 flats of their ongoing 15 projects in Dhaka and Chattogram. The firm managed to bag bookings of two flats worth Tk 5 crore on the fair's last day.
Kaji Abdul Hamid, senior manager (sales), hoped to get booking of five to six more flats from potential buyers afterwards.
Equity Property Management displayed seven ongoing projects including its second condominium project running at Agrabad area targeting middle-income families.
The project, Equity Mid City, has 148 flats with spaces ranging from 1,323 square feet to 1,524 square feet. The price per square feet is Tk 6,000. The firm received a booking for one flat.
Equity Assistant Manager (sales) Md Sazzad Hossen said most visitors of the middle-income group sought to buy flats at rates ranging from Tk 60 lakh to Tk 70 lakh, which was difficult for renowned firms to construct ensuring quality materials.
The CPDL, one of the leading realtors of the port city, currently has 26 ongoing projects with over 300 apartments.
The firm bagged booking order for two flats worth Tk 4.20 crore and also for a commercial space.