99 get BASIS outsourcing awards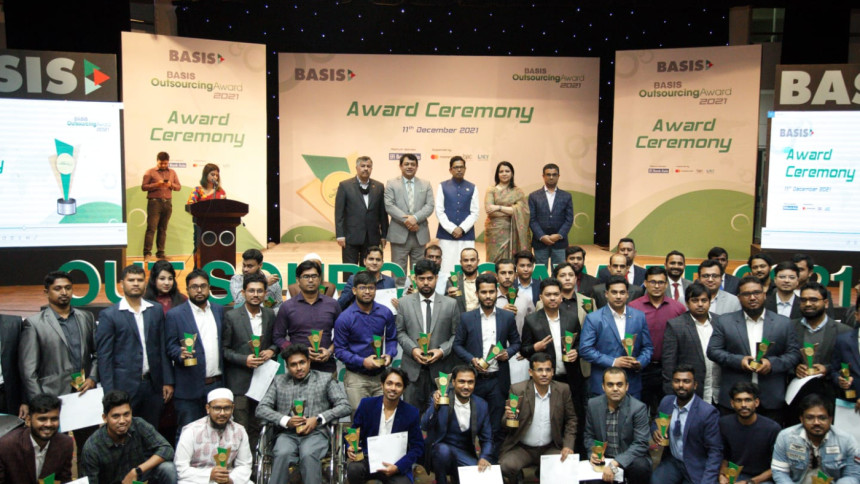 The Bangladesh Association of Software and Information Services (BASIS) yesterday honoured 99 individuals and companies in recognition of their outstanding performance in outsourced IT services.
At the seventh edition of its flagship event -- the BASIS Outsourcing Award -- BASIS distributed 20 awards at the company level and 79 at the individual level in seven categories. Winners were selected through a step-by-step screening process from more than 1,400 aspirants.
Zunaid Ahmed Palak, state minister of the information and communication technology division, attended the programme as chief guest.
At the company level, five awards were given in the "Outsourcing Company" category, five in the "Startup" category and 10 in the "Export Excellence" category.
At the individual level, awards were given to 63 individuals from 63 districts, of which six women won in the women's category and 10 became the top national outsourcers.
A person with special needs was also honoured in the individual category for the first time.
At the programme, BASIS President Syed Almas Kabir said the government has set a target to earn $5 billion in export revenue from the software and IT sector by 2025.
Kabir went on to say that to achieve this target, the government's 10 per cent cash incentive on income earned in the sector should be increased to 20 per cent.
He also emphasised on more public-private initiatives to innovate new products and services as well as develop the skills of workers in order to expand the market abroad.
"Local software and software services which are being successfully used in the country need to be taken to other parts of the world to materialise the vision of digital Bangladesh," Kabir said while underscoring the need for government assistance to expand the domestic software market beyond the country's borders.
In her speech, BASIS Senior Vice President Farhana A Rahman emphasised on developing skills in pace with the advancement of technology.
She said the BASIS Outsourcing Award particularly aims to recognise those who work in remote areas and also help freelancers become entrepreneurs.
However, Rajiv Hassan, chief product officer of Selise, said it is difficult to get the payments for outsourced work as there is a cap on the amount of funds that can be transferred through existing channels.
This is because the country lacks international payment systems such as PayPal but if we can remove this barrier, then outsourcing could increase," Hasan said.
In response, State Minister Palak said work is ongoing to bring PayPal's services to Bangladesh.
SM Kamal, a former BASIS president; Shoeb Ahmed Masud, vice-president (admin); Mushfiqur Rahman, vice-president (finance); and SM Iqbal Hossain, managing director of Bank Asia, were present at the event.
Bank Asia was the Platinum Sponsor of the programme while MasterCard, IBPC and LICT were in overall collaboration.