No plans to interfere with Islami Bank's affairs: Muhith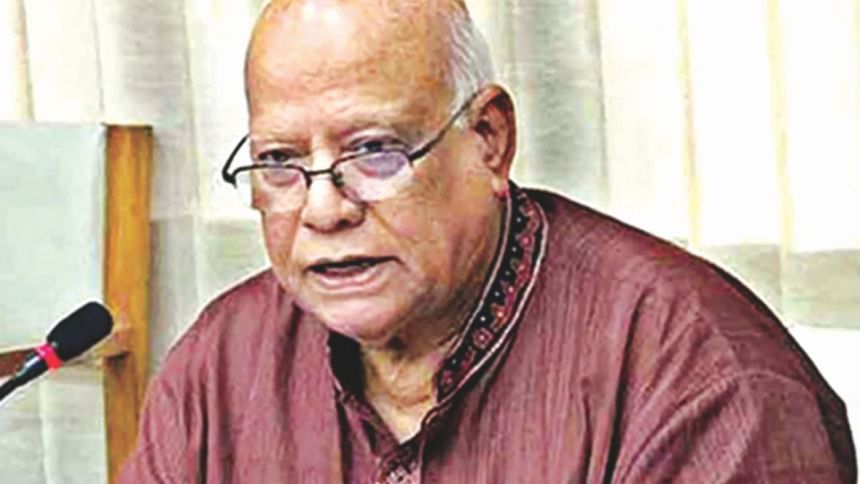 Finance Minister AMA Muhith yesterday said the government has no plans to meddle into the affairs of Islami Bank, which has plunged into a bout of infighting.
"We will intervene if we get any complaint from the Islamic Development Bank," Muhith told reporters at his secretariat office.
The Jeddah-based multilateral development financing institution holds more than 7.5 percent stakes in IBBL.
Quoting his recent meeting with IDB officials in Saudi Arabia, the finance minister said: "IDB is least interested in IBBL."
Muhith, however, said he has no idea what is happening at Islami Bank in recent days.
The minister's comments came a day after a group of seven IBBL directors threatened to step down if any of them has to resign under pressure.
Earlier on May 11, Syed Ahsanul Alam, vice-chairman and an independent director of the bank, posted on his Facebook page that he was under pressure from some groups to resign from his post.
The issue was later discussed at the board meeting on May 13 and the directors pledged to be united if they received any threat.
Expressing concerns about the latest developments, the meeting decided to bring the issue to the notice of the Bangladesh Bank.
Last week, Arastoo Khan, chairman of the bank, at an abruptly arranged press conference alleged that Alam violated his oath of office by spreading propaganda about the bank.
The chairman admitted that a division was created within the board of directors, which was unfortunate.
In January, the IBBL appointed Khan as its new chairman and brought major changes to key positions, including its managing director.
At that time, Alam was also elected the vice-chairman.