Tk 5,600cr needed pronto to stave off hunger among poor
Finds joint study by PPRC and BIGD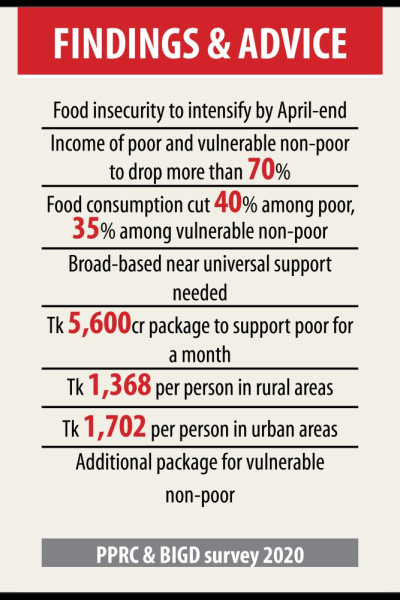 Food insecurity among the poor and economically vulnerable population has started and the crisis will intensify by the end of this month if the government does not take any immediate steps, said a recent study.
"We want to give an alert to the government," said Hossain Zillur Rahman, executive chairman of the Power and Participation Research Centre (PPRC), which conducted the study in collaboration with the BRAC Institute for Governance and Development (BIGD).
With the view to flattening the curve on the highly contagious, lethal pathogen, the government on March 26 put the country on shutdown -- a move that gashed the income of the poor and the vulnerable non-poor saw their income come crashing by as much as 70 per cent.
The study, conducted over telephone among 5,471 households in slums in cities and rural areas from April 4 to April 12, found that the poor and the vulnerable were trying to cope with the current crisis by using savings, borrowing and reducing food consumption.
Some 40 per cent of the poor and 35 per cent of the economically vulnerable non-poor had to reduce food consumption since the coronavirus outbreak in Bangladesh in March.
Their savings will run out by next week, said Imran Matin, executive director of BIGD, while sharing the findings of the study yesterday.
Then, without any support, they will descend into deep trouble, Rahman said.
Subsequently, the study suggested the government provide Tk 5,600 crore immediately -- Tk 1,368 for per person in rural areas and Tk 1,702 in urban areas -- to ensure food security for a month for the nearly four crore poor population.
The economically vulnerable population were above the poverty level as their incomes were higher during the pre-coronavirus period, particularly in February. Researchers termed them as 'new poor': their income dropped 71 per cent since coronavirus took over the national discourse.
Almost 80 per cent of the vulnerable non-poor have seen income contraction and this section of people might go above the poverty line if the situation normalises next month.
"But it is very unlikely as it appears to us that the crisis will prolong for the next couple of months," said Rahman, also a former adviser to an immediate caretaker government.
The amount of traditional relief has been increased for those who suffer from food insecurity.
"What we wanted to say was that the upcoming crisis of food insecurity could not be tackled through a lumpsum increase in traditional relief activities."
A dedicated package is urgent to support people facing food insecurity, Rahman said.
Earlier this week, the government allocated Tk 760 crore to transfer cash to poor people.
"There is a large-scale acute need of basic livelihood support because of massive income drop," Matin said.
People should be given a widespread generous support package and traditional safety net thinking needs to be changed, he added.