Restaurants spring up in past decade
Changing lifestyle, increasing mobility of people key factors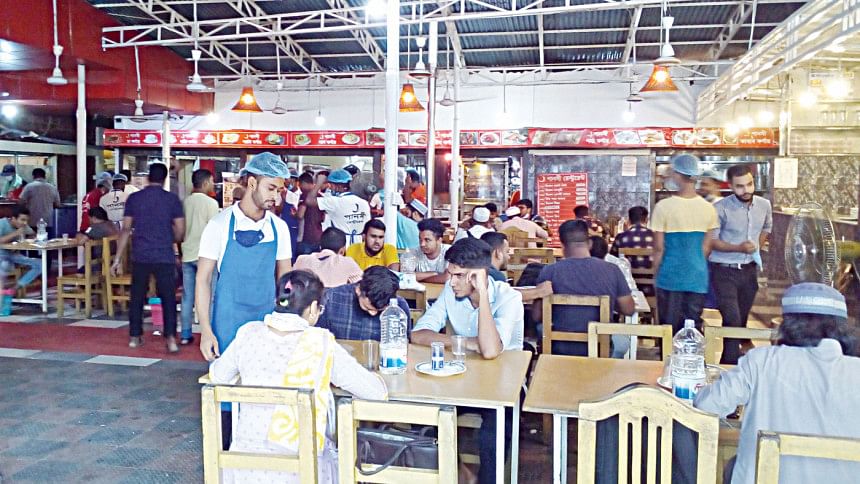 The number of restaurants and the people involved in the sector has significantly increased over the decade to 2019-20 thanks to changing lifestyle, increasing mobility of people, and demand for dining-out, according to a new survey.
The Hotel and Restaurant Survey 2020 was released on Sunday, the first of its kind in 10 years. It found that the number of restaurants rose to 4.36 lakh in 2019-20, reflecting a 59 per cent increase from a decade ago.
The survey, carried out by the Bangladesh Bureau of Statistics (BBS), however, did not assess the Covid-19 impact on the hotel and restaurants, which have been severely affected by the lockdowns enforced by the government to curb the spread of the disease.
Akhtaruzzaman Khan, president of the Bangladesh Hotel Restaurant Sweets Bakery Workers Union, said as much as 45 per cent of the people engaged in hotels and restaurants lost jobs due to the closure of thousands of restaurants amid the Covid-19.
"People in the sector are now passing miserable days. They are yet to get any support from the government," he said.
The BBS survey finds that hotels and restaurants employed 22.8 lakh people as of 2019-20, up from 9 lakh a decade ago.
The contribution of the sector to the gross domestic product has risen to 0.75 per cent. In terms of monetary value, it was Tk 87,926 crore in fiscal 2019-20 against Tk 11,986 crore in 2009-10.
"It shows that the hotel and restaurant sector expanded rapidly, and the sector is making valuable contributions," said BBS in the report.
Along with the growth of the sector, employment cost per person nearly doubled to Tk 69,048 per year in 2019-20. Employment cost includes salary, wages and cash and non-cash benefits.
The state agency carried out the survey by collecting data from 6,734 hotels and restaurants during March-April 2020.
Selim Raihan, executive director of the South Asian Network on Economic Modeling, said the number of hotels and restaurant had increased sufficiently as the lifestyle of people and their food habit had changed, and the demand for food items had increased in this decade.
"Nowadays, people buy food online," he said.
About the increased number of women workers in the sector, Prof Raihan said if the BBS report had been correct, the sector would have been just behind the garment industry in terms of female workers employed.
"But there has not been that much presence of female workers in the restaurant and hotel sector," Raihan said, calling the increase in the wage nominal.
The sector has been affected hugely by Covid-19, and this should have been included in the BBS report, he said.
"The Sanem conducts surveys every three months where hotels are also included. We have seen that many hotels have closed due to Covid-19. These issues should have come up in this report."