Potato exports on the rebound but remain far below previous peak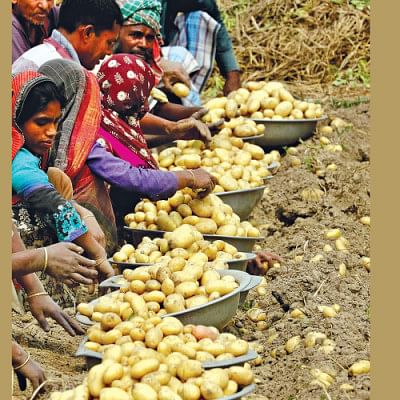 Potato shipments have rebounded to an extent as revenue from the sector nearly doubled in the just-concluded fiscal year thanks to exporters' efforts to exploit the gap in the international market created by reduced supply from China and Pakistan following lower crop production due to the coronavirus fallout.
Exports of the spud increased 29 per cent year-on-year to 45,000 tonnes in fiscal 2019-20.
In value, the kitchen staple fetched $23.30 million in export earnings in last fiscal year, which was 86 per cent more than receipts for the year before that, showed data from Export Promotion Bureau (EPB) and Department of Agricultural Extension (DAE), which issues plant health certificates for international shipments.
"We received higher prices this year as there was a supply gap from China and Pakistan. Lower potato production in Pakistan also helped us a lot," said Kazi Mahabub Morshed, owner of Kanak International.
Demand remains high in certain international markets, particularly Malaysia, Singapore and Sri Lanka, the main destinations for Bangladeshi shipments of the tuber crop, said Morshed, also the organising secretary of the Bangladesh Potato Exporters Association (BPEA).
Bangladesh is the sixth-largest potato producer in the world as for the past several years farmers have produced higher amounts of the vegetable than the annual requirement.
In fiscal 2018-19, 96.55 lakh tonnes of potato was grown in Bangladesh against an estimated domestic demand of nearly 80 lakh tonnes.
Banking on increased production, exporters are trying to expand their baskets but have registered swings in shipments due to the absence of select potato varieties that are popular in the global market and a proper value chain.
Failure to comply with the rules of importing countries, like Russia and Indonesia, also hinders the country's scope to increase exports of the tuber crop, which stakeholders claim could reduce vulnerability for farmers and risk of loss in the event of price falls due to production gluts.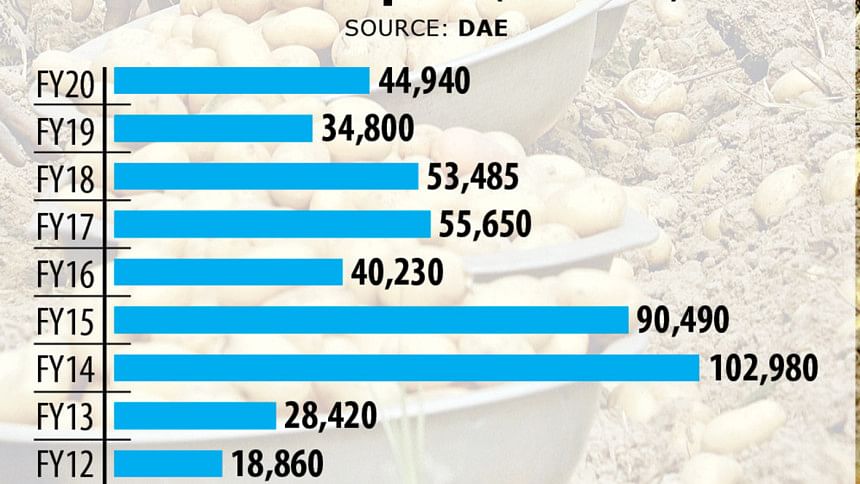 The government provides a 20 per cent cash incentive to accelerate potato exports and protect farmers from the risk of losses.
The main season of fresh potato export begins from February after the harvest in January and continues until May, according to Morshed.
He also said the demand for potatoes from buyers abroad is high but they could not cater to them in full because of increased prices in the domestic market and issues in packaging and shipping during the shutdown imposed by the government at the end of March in a bid to slow the spread of the rogue virus.
Morshed received a contract for 12,000 tonnes of potato. However, he could deliver only 4,000 tonnes after failing to arrange enough manpower to prepare the shipment on time amid the nationwide shutdown.
The domestic increase of potato prices affected exports of the spud, said Md Azahar Ali, director of Plant Quarantine Wind of the DAE.
Besides, potatoes were distributed as food aid to support poor people during the shutdown, he added.
Data from the Trading Corporation of Bangladesh showed that the popular vegetable was sold at Tk 30-Tk 35 per kilogram in Dhaka city as of yesterday, 44 per cent higher than what it was a year ago.
BPEA President Shaikh Abdul Quader said demand waned in the international market as the price of potatoes was higher abroad.
"We should not be satisfied with last year's shipment. We are yet to go back to the export level of 2014," he said.
Exporters shipped more than 100,000 tonnes of fresh potato in fiscal 2013-14, driven by high demand in Russia, one of the largest importers of the vegetable.
However, Russia slapped restrictions on the entry of Bangladesh's potato shipments due to food safety and disease risks in May 2015.
Exports subsequently fell and have hovered around 40,000-50,000 tonnes since fiscal 2015-16, showed the DAE data.
Quader also said that absence of exportable quality potatoes is a major impediment to the sector.
In December last year, the government removed restrictions on the introduction of new varieties of potato seeds for three years in a bid to promote cultivation for exports and process different types of the tuber crop.
Farmers mainly grow several varieties of potatoes, namely diamond and granola, for household consumption apart from other varieties like asterix and lady rosetta for agro-processing.
Quader said that his firm has imported 14 varieties of potato for cultivation and that government support is needed to increase exports.
Exporters also demanded the government take adequate measures so that countries such as Russia and Indonesia remove the restrictions placed on the entry of Bangladeshi potatoes.