Pandemic delays minimum wage for tea, jute mill workers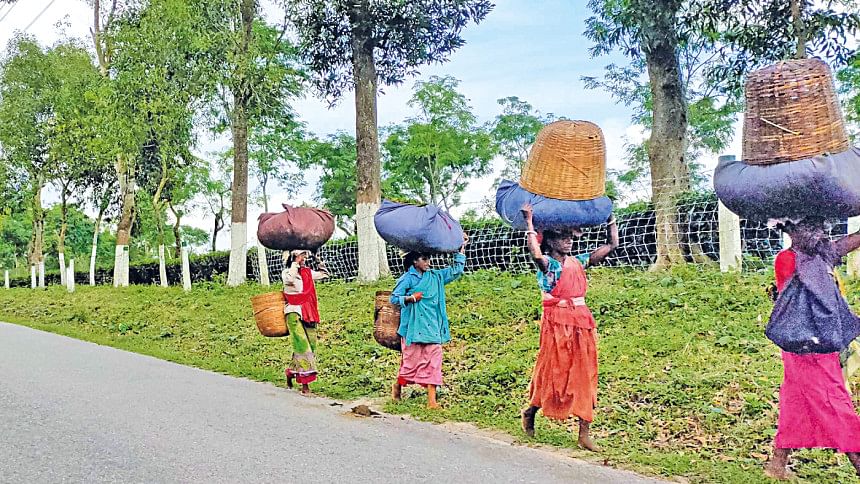 The wait for workers of four sectors, including private jute mills and tea gardens, for new wages has gotten longer as the fixation of their minimum wages was halted following the authorities' unwillingness to join physical meetings amid the pandemic.
The minimum wage board under the labour and employment ministry in a notice last week said it could not carry out activities to fix a minimum wage for workers in private jute mills, tea gardens, printing press and security services from March 26 to May 30 due to the general holiday.
"Considering the current situation, members of the board have expressed disinclination to attend meetings. The dates of meetings will be fixed and all will be informed accordingly once the coronavirus situation improves and normalcy returns," the board said in the notice.
This disclosure comes at a time when tens of thousands of workers, including nearly 150,000 employed in private jute mills and 140,000 in tea gardens, are waiting to get new wages.
The minimum wage for workers at the private jute mills is Tk 4,380 per month with Tk 2,700 being their basic pay -- which is one-third of the minimum wage fixed by the government for workers at state-run mills, including jute.
Meanwhile, tea workers get Tk 102 per day now along with 3,270 grams of rice or wheat flour, said Rambhajan Kairi, general secretary of the Bangladesh Tea Workers Union.
"Workers are living from hand to mouth. We want the government to take a special initiative to declare minimum wages for us," he said.
Kairi, who represents tea workers on the board, said tea gardens were not shut even for a day because of the coronavirus.
"Workers are working amid risk of infection," he said, adding that the issue of fixing a minimum wage could be moved forward by holding virtual meetings as not all members are willing to be present physically amid Covid-19 outbreak.
"A number of big decisions are being taken [by the government] through virtual meetings," said Kairi, demanding Tk 300 as daily wage for tea workers. 
Shahidullah Kha, who represents jute mill workers in the private sector on the board, said he is willing to join the meeting of the wage board.
Sheikh Shamsul Abedin, who represents jute mill owners at the board, said several meetings took place after the declaration last week.
"We are gathering data from various mills regarding wages," he said.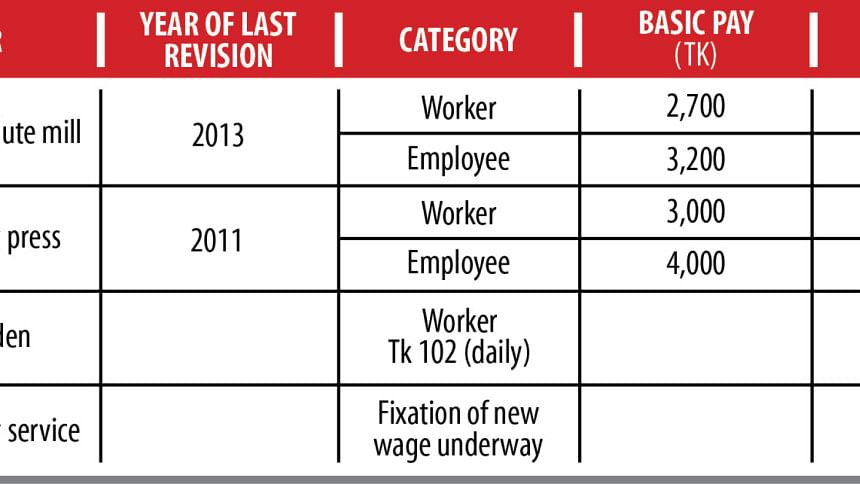 Abedin, also chairman of Rajbari Jute Mills, said workers in many spinning and jute mills are getting higher wages than the declared rates of 2013.
"There is a shortage of jute mill workers. So, owners pay higher to retain them," he said.
"It would be better if the new minimum wage is fixed once normalcy returns," said Mohammad Zahurul Islam, general secretary of the Printing Industries Association of Bangladesh.
Workers and employees in the printing sector get higher than the minimum wage fixed in 2011, he added.
Some 500,000 people used to work in the printing sector before the Covid-19 broke out, according to Islam.
Jatiya Sramik League President Fazlul Haque Montu, who represents workers at the board, said a number of members, including representatives of owners, are unwilling to attend meetings amid the spread of the novel virus.
"The office is not spacious enough to ensure proper social distancing for all members during meetings," he said.
On holding virtual meetings, Montu said he would raise the issue with the board chairman.
Kazi Saifuddin Ahmed, labour adviser of the Bangladesh Employers' Federation, said it is not possible for him to be physically present at the meetings. However, Ahmed also said he would have no qualms if meetings are held virtually.
On the other hand, Chairman of the board Khandaker Hasan Md Firoz said it is not convenient to hold virtual meetings for the fixation of minimum wages.
It may not be possible to get all views and present all the information properly through virtual meetings. Therefore, physical presence at meetings is more convenient, he added.
"We will take the initiative after the upcoming Eid so that we can hold some meetings," said Firoz.
The board recommended minimum wages for workers in the plastic industry, re-rolling mills, leather goods and footwear factories and private transport sector in fiscal 2019-20.
The government had declared new minimum wages for workers in the aluminium and enamel, garments, glass and silicate sectors during the previous fiscal year.