Pandemic cuts demand for online workers from Bangladesh: ILO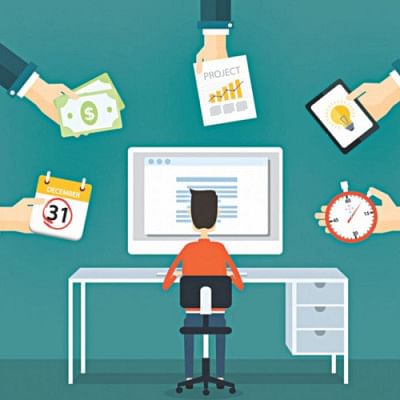 The Covid-19 outbreak has affected the supply of online labourers from Bangladesh because of a fall in demand for web-based workers in the developing and developed countries, according to a report of the International Labour Organisation (ILO).
Bangladesh's share in global online workers declined to below 15 per cent last year, down from nearly 20 per cent in 2018.
Last year, creative and multimedia occupied the biggest pie in the supply of online labourers from Bangladesh, which was the sales and marketing supports in 2018. The ILO shared the information in the report titled "World Employment and Social Outlook 2021: The role of digital labour platforms in transforming the world of work."
Among the South Asian peers, the supply of online labour increased from both India and Pakistan even during the Covid-19 because of their expertise in diversified sectors like IT and software, the report said.
"Digital labour platforms such as Uber, Foodpanda and Sheba XYZ are creating hundreds of thousands of new, flexible job opportunities in Bangladesh for women, persons with disabilities and young people and that must be applauded," said Tuomo Poutiainen, ILO country director for Bangladesh.
"However, this report shows that many workers often struggle to find sufficient well-paid work to earn a decent income and many do not have access to social protection, which has been particularly concerning during the pandemic."
Irrespective of whether platform workers are classified as employees or self-employed, they should enjoy the rights to associate, bargain collectively and to be protected against discriminatory conduct and unsafe workplaces, the ILO country director also said.
"Put simply - what is unacceptable in the analogue world of work should also be unacceptable in the digital one."
After the widespread outbreak of Covid‑19, there was a decline in both the demand for work and the supply of labour in March 2020. Activity picked up gradually from early April.
On the demand side, there was a rise between April and May, after which demand declined gradually and then stagnated until October before picking up again.
The impact of the pandemic seems to affect clients and workers differently across countries, the ILO report also said.
The tasks performed on these platforms can be classified into the following occupational categories: software development and technology; creative and multimedia; writing and translation; clerical and data entry; sales and marketing support; and professional services.
Globally, a large proportion of tasks are completed in the field of software development and technology, whose share increased from 39 per cent to 45 per cent between 2018 and 2020.
Professional and sales and marketing services have also gained importance, whereas occupations such as creative and multimedia, writing and translation, and clerical and data entry tasks declined between 2018 and 2020.
The clients who demand such work are largely based in developed countries, with four of the top five countries belonging to this group.
In 2020, about 40 per cent of the demand for such work was from clients based in the United States. Compared to 2018, however, the share of demand from the United States for such work has declined, and that from Australia, Canada, Germany, India, and the United Kingdom increased.
In contrast to the demand for work, the supply of labour on these platforms originated mainly from a number of developing countries, in particular Bangladesh, India, Pakistan, the Philippines and Ukraine, apart from the United Kingdom and the United States.
Workers from India are the largest contributor, and India's share of total supply rose by about 8 percentage points between 2018 and 2020, while it declined in other developing countries, except Ukraine.
The digital economy is transforming the world of work. Over the past decade, the expansion in broadband connectivity and cloud computing, along with innovations in information and communications technologies, have enabled economic transactions and the exchange of large amounts of data and information between individuals, businesses and devices.
Data is increasingly a key asset, which is driving the digital economy. Related to these transformations is the proliferation of digital platforms in several sectors of the economy.
Since March 2020, the Covid‑19 pandemic has led to an increase in remote-working arrangements, further reinforcing the growth and impact of the digital economy.
While digital platforms provide a range of services and products, the report focuses on digital labour platforms, which mediate work and have rapidly penetrated a number of economic sectors as a result of innovations in digital technologies.
Digital labour platforms are a distinctive part of the digital economy.
They allow individuals or business clients to arrange a ride, order food or find a freelancer to develop a website or translate a document, among many other activities and assignments.
This report seeks to enhance people's understanding of how digital labour platforms are transforming the world of work, and the implications of that transformation for employers and workers.
It draws on the findings of ILO surveys conducted among some 12,000 workers in 100 countries around the world working on freelance, contest-based, competitive programming and microtask platforms, and in the taxi and delivery sectors.
It also draws on interviews conducted with representatives of 70 businesses of different types, 16 platform companies and 14 platform worker associations around the world in multiple sectors.
About 96 per cent of the investment in digital labour platforms is concentrated in Asia ($56 billion), North America ($46 billion) and Europe ($12 billion), compared to 4 per cent in Latin America, Africa and the Arab States ($4 billion).
Platforms providing taxi services have received a much larger share of venture capital funds than delivery or online web-based platforms.
Among taxi platforms, the distribution of funding is uneven, with 75 per cent of funds concentrated in only two platform companies.
Digital labour platforms globally generated revenue of at least $52 billion in 2019. About 70 per cent of the revenues generated were concentrated in just two countries, the United States (49 per cent) and China (22 per cent), while the share was much lower in Europe (11 per cent) and other regions (18 per cent).
The seven largest technology companies globally had a cumulative revenue of over $1,010 billion in 2019, and most of these companies invest heavily in digital labour platforms as well.