Over 500 garment workers protest in Ashulia demanding timely salary, overtime payment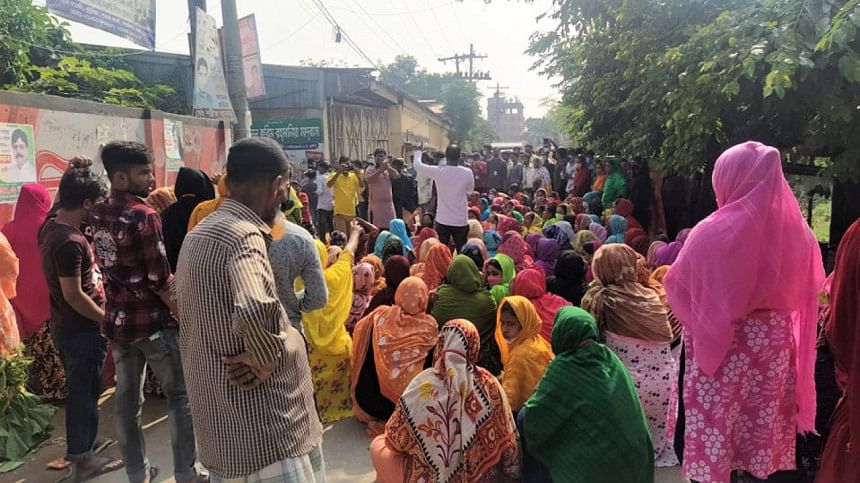 More than 500 workers of ZA Apparels Limited factory protested in the Dewan Market area in Ashulia, Savar around 12:30pm today -- demanding timely payment of salaries and overtime bills.
Around 700 people are working in the factory for a long time, according to the protestors. The workers' wages used to be paid by the 10th of every month. The factory authorities, however, have been paying the salaries on the 25th for the past two months. Furthermore, the authorities pay irregularly, failing to include the overtime bill in the salary, workers claimed.
Aside from that, workers are not entitled to maternity leave, attendance bonuses, or general leave pay, they told our Savar correspondent.
Workers demand that their salaries and overtime pay be paid by the seventh of each month, as well as maternity leave, attendance bonuses, and general leave.
"Since we are paid on the 25th, we are having problems paying house rent and other regular expenses," said worker Paresh Kumar.
"There will be no such issue if we are paid on time," he added.  
The factory's managing director, Md Zahangir Alam, said, "The factory has been paying salaries on the 25th as bank authorities have been delaying our payment for the past two months. On the 22nd of this month, the bank will pay us, and we will pay the workers on the 25th."
He promised that the problem would be resolved by the end of the month.
The issue was discussed in the presence of workers, factory authorities, industrial police, and labour leaders, said Al Kamran, president of Swadhin Bangla Garment Sromik Federation Savar-Ashulia Regional Committee.
Superintendent of Dhaka Industrial Police-1, Asaduzzaman, said that additional police force has been deployed at the spot.