Onion acreage blows up to a new high
Dependency on India poised to be less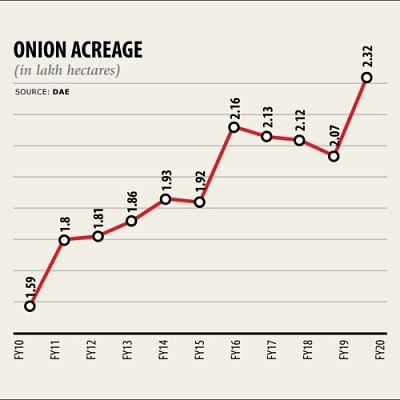 Onion acreage has gone skyward this season as farmers have raised their game buoyed by high prices that resulted from a supply crunch brought on by a curb on exports of the key cooking ingredient by India, the country's main source.
Growers cultivated the tuber on 2.32 lakh hectares this time, the highest in a decade and up 12 per cent year-on-year, according to preliminary estimates by the Department of Agricultural Extension (DAE).
"This shows farmers respond when they get good prices," said DAE Director General Md Abdul Muyeed.
Onion prices, which usually hover between Tk 20-40 a kg throughout the year, escalated to Tk 250 a kilogram in Dhaka soon after India slapped a ban on shipment in September last year amid a dearth in domestic yield.
Bangladesh's annual onion production has remained steady at 17-18 lakh tonnes for four years through fiscal 2018-19 against the demand for 24 lakh tonnes.
The country imports 10-11 lakh tonnes of onion to plug the shortfall that also comprises post-harvest losses.
"We have a target to become self-sufficient in onion production in three years' time. We will increase both coverage and yields. We have taken initiatives to promote cultivation of summer onions," Muyeed said.
Onions are sown between October and early December and harvested between late April and mid-June the next year.
"We expanded plantation this year," said Saiful Islam, a farmer from Sujanagar in the northwest district of Pabna, one of the major onion-producing districts.
The crop is looking good and yields are likely to be high if weather remains favourable, said Gobinda Saha, an onion trader and stockist in the central district of Rajbari, another main onion-producing region.
Pabna, Faridpur and Rajbari account for half the total onion production and the scope for further expansion of acreage is narrow there, said Shailendra Nath Mozumder, principal scientific officer at the Spice Research Centre in Bogura under the Bangladesh Agricultural Research Institute.
Onion cultivation is rising in some new districts such as Gopalganj, Madaripur, Shariatpur, Natore, Rajshahi, Chapainawabganj and Manikganj, he said.
Cultivation did not jump as expected as farmers are still sceptical about getting better prices, Mozumder said, adding that growers suffered losses in the past due to low prices in the peak harvesting season as imported onion also kept coming.
The bulb was selling for Tk 70-110 per kg yesterday in Dhaka markets, up from Tk 20-25 a year earlier, according to the Trading Corporation of Bangladesh.
The onion-sowing area would have been higher than reported had there been enough supply of seeds, Muyeed said, adding that bumping of production of seeds will be looked into.