Millers for limiting raw jute export citing flood losses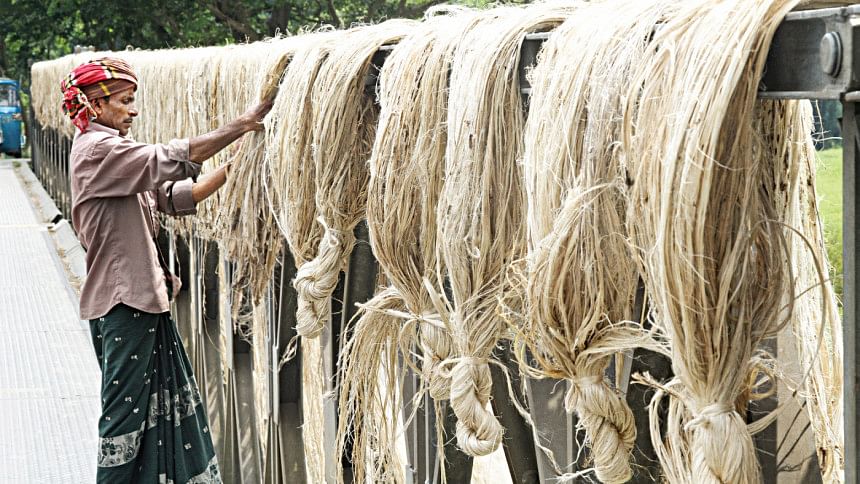 Jute millers yesterday urged the government for restricting raw jute export to contain price spikes of the natural fibre saying that high prices would increase cost of jute goods and affect exports.
The millers demanded that the government impose an export duty of $250 on each tonne of raw jute to curb shipments and divert their flow to meet requirements of the local mills.
They also wanted a complete ban on export of certain types of jute termed as uncut/Bangla Tossa Rejection/Bangla White Rejection to increase their availability in the domestic market and contain price hikes.
"Otherwise, we apprehend that the jute mills will shut down," said Bangladesh Jute Spinners Association (BJSA) and Bangladesh Jute Mills Association (BJMA) in a joint statement made at a press conference at the Lakeshore hotel in Dhaka.
The demand came amidst prices of the natural fibre soaring in the wake of crop losses resulting from floods and inclement weather.
The BJSA and BJMA said farmers roughly produce 75 lakh bales of jute a year but because of crop losses, production would be 55 lakh bales this year. This is 5 lakh bales short of the 60 lakh bales annually required by the jute mills, they said.
As a result, prices of jute have been increasing since the beginning of harvest early last month.
The highest quality or grade of jute, used mainly for making yarn, was selling as high as Tk 2,700 per maund at markets in producing zones this week, said Md Shahid Hossain Dulal, owner of Progress International, an exporter and supplier of raw jute to mills.
Those of the lowest grade was selling at Tk 2,200 per maund, he said.
Millers said jute prices reached the highest Tk 2,300-Tk 2,400 each maund last year.
"Supply and prices of raw jute should be kept within a tolerable level to protect the industry," said BJSA Chairman Md Zahid Miah.
The BJSA and BJMA said raw jute accounts for 75 per cent of raw materials of jute goods. Hence, prices of jute products depend on the prices of the raw fibre.
The production cost will increase and if prices go up too high, buyers will move away from jute.
This will be dangerous for the jute industry, said BJMA Chairman Mohammed Mahbubur Rahman Patwari, urging for imposing the export curbs.
Over the past decade the government slapped bans on jute export several times, including on uncut Bangla Tossa Rejection and Bangla White Rejection.
The latest was in December 2018 and the restriction was removed in March 2019.
The latest data on the quantity of raw jute export is not available.
However, Abdul Quayyum, secretary to Bangladesh Jute Association, said nearly 100,000 bales of raw jute had already been shipped. 
Data from the Export Promotion Bureau showed that exporters earned $20 million in the July-August period of the current fiscal year, a 38 per cent hike from the same period a year ago.
Exporters shipped 9.5 lakh bales of raw jute in fiscal 2019-20, said Quayyum, citing that the full year's export figure was yet to be released.
Some 8.25 lakh bales of raw jute was exported in fiscal 2018-19, showed data from the Department of Jute.
Farmers sowed jute on 7.26 lakh hectares of land this year, up 9 per cent year-on-year, according to the Department of Agricultural Extension (DAE).
The DAE estimated that repeated floods damaged jute on more than 26,000 hectares of land, causing farmers a loss of about Tk 211 crore.