LDC graduation assessment could be delayed
Bangladesh may continue to enjoy duty-free benefits longer than expected, says an expert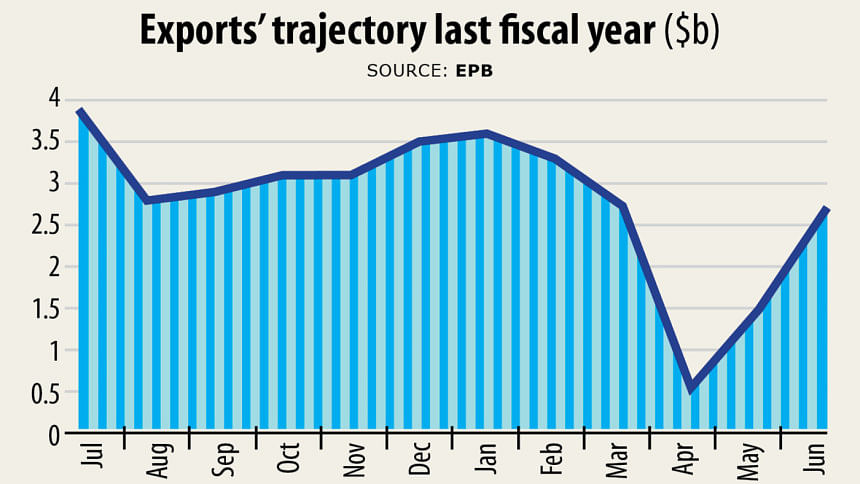 Bangladesh may continue to receive duty-free benefits on exports to developed and developing countries for longer than expected as the United Nations Centre for Development Policy (UN CDP) could delay the country's assessment for graduation from a least developed country (LDC) by three to five years.
The UN CDP was scheduled to evaluate certain LCDs, including Bangladesh, for promotion to the developing country category in 2021.
"However, the assessment could now be delayed by three to five years in consideration of the global economic losses caused by the ongoing coronavirus fallout," Mustafizur Rahman, a distinguished fellow of the Centre for Policy Dialogue (CPD), said yesterday.
The assessment could now be carried out in 2024, however, if this is not feasible for any reason, then the UN CDP may consider alternative measures, some of which have already been proposed by LDCs in light of Covid-19, he added.
One such alternative is that the UN CDP will conduct assessments in 2021 as initially planned and allow qualifying countries to complete their graduation as scheduled.
The key difference though is that developing and developed countries will be asked to continue to provide zero-duty benefits for the newly graduated countries for an additional five years, Rahman said.
"The UN CDP is considering both options," he added.
On the other hand, Rahman urged local suppliers to brace for the 12 per cent export duty they will face when shipping goods to the EU once the country completes its graduation.
Already, Vietnam has signed a free trade agreement (FTA) with the EU, Bangladesh's main export destination.
If Vietnam enjoys such benefits while Bangladesh pays a 12 per cent duty for goods bound for the EU, then the country's competitiveness will fall significantly, said Rahman.
Therefore, Bangladesh needs to sign a number of Comprehensive Economic Partnership Agreements (CEPA) with certain countries and regions for preferential trade benefits since FTAs alone do not cover all incentives.
For example, FTAs only cover tax privileges while the CEPA covers all duty, investment and domestic market-related benefits.
The CPD economist also suggested that Bangladesh further penetrate the Association of South East Asian Nations (Asean) markets in a bid to boost the country's exports, adding that exporters should search for new business opportunities in India, China, Japan and other major Asian economies.
Reducing lead time is also a very important task for businesses in Bangladesh as export earnings have been on the delice since even before the Covid-19 outbreak, Rahman said.
This is a concerning fact and it needs to be known why exports witnessed a downward trend between the July-March period of the previous fiscal year.
Besides, certain products like jute goods, footwear and pharmaceuticals performed well in fiscal 2019-20.
"So, we also need to find out why these goods did well so that we can export more of those items," Rahman added.
He made these comments while speaking at the 5th dialogue of Resurgent Bangladesh, a virtual meeting on 'International Trade in Covid Times: Impact and Way forward for Bangladesh', organised by the Dhaka Chamber of Commerce and Industry (DCCI). 
Various lawmakers, exporters, businesspersons, trade body representatives, economists and researchers participated in the meeting.
Resurgent Bangladesh is an economic recovery initiative organised by the Metropolitan Chamber of Commerce & Industry (MCCI), DCCI, Chittagong Stock Exchange Ltd, Business Initiative Leading Development (BUILD), and Policy Exchange.
While the country's bright image is an important aspect for attaining higher export growth, addressing the public health issues currently prevalent in the country is more crucial, said Syed Nasim Manzur, managing director of Apex Footwear.
Manzur also urged the authorities to reduce both the cost and ease of doing business in Bangladesh.
"Creating more demand in the domestic market is vital as well," he said, adding that most of the roughly 11 million people employed by the country's wholesale, retail and tourism industries are financially suffering due to the ongoing pandemic.
Abul Kasem Khan, chairperson of BUILD, suggested that Bangladeshi suppliers should tap into the export potential of China as the Chinese government offered duty-free benefits for 8,256 locally made products.
The Asean market is very important for Bangladesh, he said, adding that Bangladesh has a strong claim for entering the intergovernmental organisation as the country has already sheltered more than one million Rohingya people.
While moderating the meeting, DCCI President Shams Mahmud said many international retailers want to shift their orders and investments away from China, which is a big opportunity for Bangladesh.
Mahmud said that the authorities should negotiate with the leaders of various export destinations in order to avoid any restrictions on products while development of the country's port infrastructure, such as container terminals and Bay terminal, needs to be expedited.
He also urged the government to accelerate the procedure to secure an Asean observer status.
Mahmud went on to call upon the concerned authorities to address the issues of the para-tariff and non-tariff barriers with India and other Saarc countries.
Nihad Kabir, president of MCCI, suggested holding periodic discussions between businessmen and the prime minister so that major trade barriers can be effectively removed.
There are other issues though, such as the automation of the National Board of Revenue, which have been hanging for over a decade even though these initiatives were taken far earlier, she said.
M Masrur Reaz, chairman of Policy Exchange, said that Bangladesh should consider the potential of the Japanese market alongside the Chinese one as well.
Asif Ibrahim, chairman of the Chittagong Stock Exchange, said capital should be taken from the stock market instead of banks.
The government should disburse export incentives in the proper sectors as export-oriented industries could create more jobs in the domestic markets, said Zaidi Sattar, chairman of the Policy Research Institute.
Humayun Rashid, managing director of Energypac Group, said opportunities have been created in the Indian market for transformer producers. His company has been exporting a good quantity of electrical transformers to India over the last two years.
Meanwhile, Tofail Ahmed, chairman of the parliamentary standing committee on the ministry of commerce, said Bangladesh could potentially export $2.5 billion in goods to China thanks to the market's zero-duty benefit on numerous Bangladeshi goods.
Bangladesh has enjoyed such benefits under the LDC criteria, however, the government has been slow in signing FTAs with other countries, he said.