Jashore's flower growers expect sales boom this month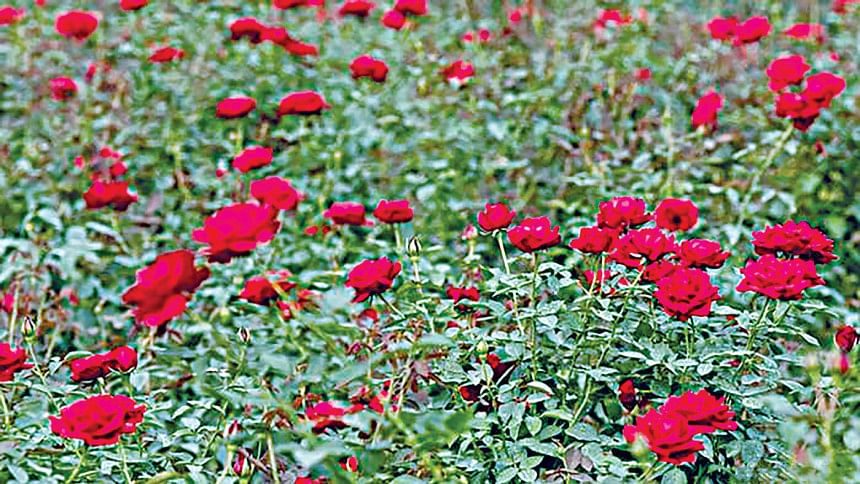 Traders at Gadkhali flower market in Khulna's Jashore district aim to register sales of about Tk 25 crore from three upcoming events -- Pahela Falgun, Valentine's Day and International Mother Language Day.
This year, Pahela Falgun, which marks the first day of spring, coincides with Valentine's Day on February 14 while International Mother Language Day is observed on February 21.
Around Tk 15 crore worth of flowers have already been sold so far, according to traders, who enjoyed higher yields thanks to favourable weather this year.
Several villages across Jashore's Jhikargacha upazila are covered with 11 types of flowers, including roses, marigolds, jarbara, gladiolus and gypsy.
Flowers were cultivated on about 650 hectares of land in the region this season and although they are available in the market year-round, sales peak in February.
And when Valentine's Day and February 21 come around, the demand for flowers sees an exponential increase across the country.
"I recently brought 10,000 roses to the market and all were soon sold out," said Abu syed, a local farmer.
Flowers are cultivated on 10,000 hectares of land across eight upazilas of Jashore district with yearly sales amounting to about Tk 150 crore, according to the Department of Agricultural Extension.
Around 5,000 farmers in the Gadkhali-Panisara area of Jhikargacha upazila cultivate various flowers on 6,000 hectares of land and these farmers meet roughly 60-70 per cent of the country's total demand.
Flowers have been planted on 6,500 acres of land in Jhikargacha this year, according to Abdur Rahi, president of Bangladesh Flower Society.
However, flower production was badly disrupted in the region due to cyclone Amphan and the ongoing coronavirus pandemic.
But florists in the region started dreaming anew ever since August after finding different ways to survive the Covid-19 fallout.
During the two-month nationwide lockdown that began on March 26 last year, no one was able to continue doing business.
Of the 5,000 farmers based in Gadkhali, just 55 received loans from the government's stimulus packages.
And so, many farmers took on debt in other forms, such as non-government organisations, in order to maintain their livelihoods.
But after a few months of hard work amid all the uncertainty, flowers began to blossom in the lands once again.
Of these, gladiolus has been cultivated on 272 hectares of land, nightshade on 165 hectares, roses on 105 hectares, marigold on 55 hectares, gerbera on 22 hectares and other flowers on 6 hectares.
Akhter Hossain, a flower trader of Gadkhali, said at present flowers are being sold at a wholesale price of Tk 3-4 for each rose, Tk 300-400 per bundle of gypsy, Tk 14-15 per piece of gladiolus, Tk 8-10 per piece of gerbera and Tk 100-150 per 100-piece bundle of marigold.