Internet banking gaining traction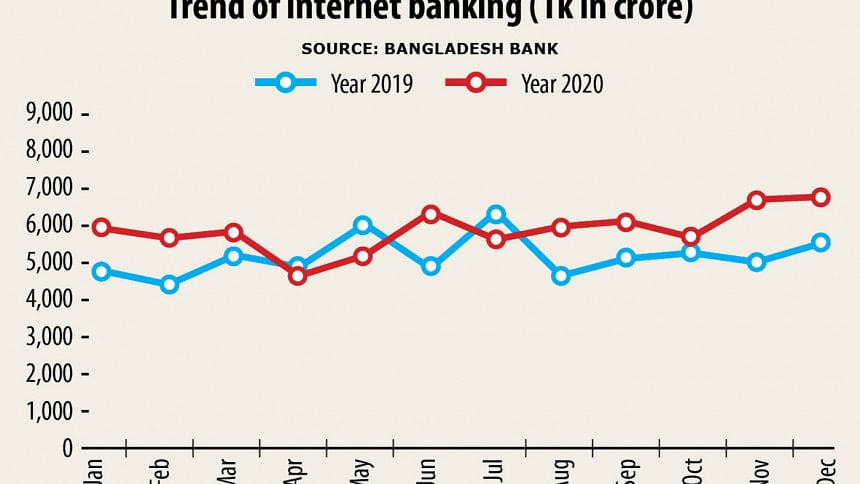 Internet banking transactions have surged in recent months as people increasingly embraced the digital mode while opting not to visit branches.   
The transactions amounted to Tk 8,093 crore in December, up 33.47 per cent year-on-year, showed Bangladesh Bank data.
Clients started heavily relying on internet banking transactions when the government declared a lockdown in March last year to limit the spread of the coronavirus.
Banks now promote different types of digital financial services, including internet banking, which attracted clients, said Dhaka Bank Managing Director Emranul Huq.
A good number of banks have already introduced app-based financial services, allowing customers to settle financial transactions hassle-free, he said.
"This has also given a push to internet banking," Huq said, adding that this, in turn, would reduce the use of cash.
Some of the facilities include the transfer of funds from one account to another, payment of tuition fees and utility bills and adjustment of loans taken against credit cards.
There were 23.44 lakh such transactions in December, which was 41.88 per cent higher year-on-year. 
Md Shafquat Hossain, head of SME and retail banking of Mutual Trust Bank, said internet banking gained momentum soon after the government imposed the lockdown as people opted to mostly stay at home to keep the virus at bay.
Although the government started easing restrictions from the final week of May, people continued to show interest in settling transactions through internet banking, he said.
"Clients are enjoying the service as they don't need to go to branches to settle small transactions," he said.
Transactions through internet banking will go up significantly in the days ahead as the central bank has recently taken several initiatives to popularise the digital banking services, Hossain said.
"The central bank has come up with regulations to drive the digitalisation agenda forward in the last several months," said Enamul Huque, country head of corporate, commercial and institutional banking at Standard Chartered Bangladesh.
Huque is confident that the changes during the pandemic would accelerate digitalisation in the financial industry.
The Bangladesh Bank increased the limit of inter-bank fund transfers through internet banking in September with a view to giving a boost to IT-based financial services.
Clients are allowed to transfer a maximum of Tk 5 lakh per day against a previous ceiling of Tk 2 lakh.
People are using the internet banking platform more than ever before to maintain social distancing and protect themselves from the rogue virus, said a high official of the central bank.
The central bank also doubled the ceiling of a single transaction to Tk 1 lakh from Tk 50,000.
Clients are permitted to settle as much as 10 transactions per day, which was five previously.
Internet banking will reach its next level when banks start opening micro merchant accounts on a massive scale, said a central bank official.
Such merchant accounts allow small businesses – vegetable vendors and owners of small shops or tea stalls –to accept bills from clients' accounts and credit cards. This can be enabled through the use of quick response (QR) codes.
"This will help people embrace digital means, sidestepping manual payment methods," said the official.
The central bank rolled out an interoperable QR code in January as part of its efforts to give a boost to cashless transactions across the country, especially in rural areas.
The uniform digital payment method named "Bangla QR" will help clients pay bills for goods and services by using the mobile apps of banks and mobile financial and payment service providers.