Implement health guidelines
BGMEA urges members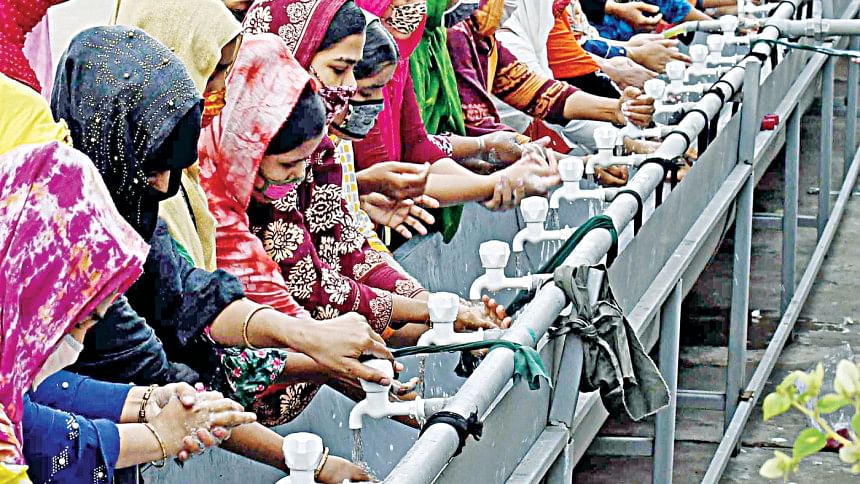 The Bangladesh Garment Manufacturers and Exporters Association (BGMEA) yesterday asked its members to implement staggered shift patterns in order to contain the spread of Covid-19 amid the ongoing second wave.
Staggered shifts refer to having the staff work for a set number of hours each day but at different times, which would help maintain social distancing as outlined by the BGMEA's health guideline for factory operations.
"So if possible, shifting work hours need to be introduced," the BGMEA said in a circular.
According to BGMEA President Rubana Huq, the factories will be run while maintaining the full protocol with heightened awareness.
"We are also pushing for PCR (Covid-19) testing for workers at the owners' cost," she said.
Workers should be provided lunch and encouraged to avoid crowded places both inside and outside of factories, including public transport, to help contain the spread of Covid-19.
Workers should have their body temperature measured when entering their factories while hand washing facilities should be easily accessible at all entry and exit points, the BGMEA circular said.
The factory management must also ensure the use of masks among workers at all times.
Other than that, the management should raise awareness among workers about the risks of Covid-19, it added.
The second wave of coronavirus infections has started to affect the garment industry at a time when the country's main export earner was just recovering from losses incurred during the initial outbreak.
During the first wave of Covid-19 last year, many factories were shut down amid a lack of work orders.
As a result, numerous workers lost their jobs while production was seriously affected once again when these workers took to the streets demanding reinstatement or arrears.
At the time, garment factory owners faced either order cancellations or suspensions that amounted to $3.18 billion.
However, about 90 per cent of these work orders have been reinstated so far through intense negotiation and the offer of various discounts.
During the initial outbreak, the Covid-19 infection rate in the garment sector was just 0.03 per cent, the BGMEA said.