Foreign fund in DSE on the decline
Restrictions on GP, taka slide to blame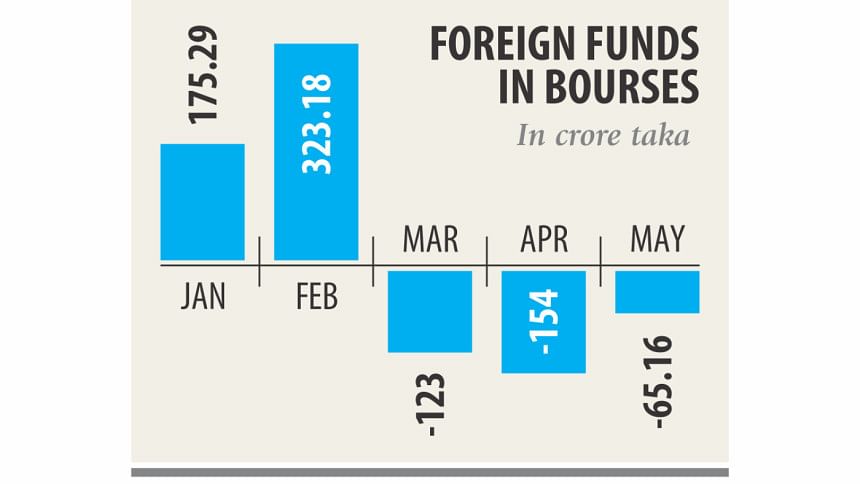 Net overseas investment in the Dhaka bourse has been in the negative for the last three months.
The amount hit Tk 65.16 crore in the negative in May when foreign investors purchased shares worth Tk 319.81 crore and sold Tk 384.97 crore, according to data of the Dhaka Stock Exchange.
The net foreign investment was Tk 154 crore in the negative in April, down from Tk 323.18 crore in February.
The telecom regulator's move declaring Grameenphone as a Significant Market Power (SMP) in February has played a big role in dampening the confidence of the foreign investors, who own around 40 percent of GP's shares offloaded in the capital market.
The Bangladesh Telecommunication Regulatory Commission did not consult with the stock market regulator to find out the aftereffects of the move, which is a must for any listed company, said a top official of a leading brokerage house.
As an SMP, higher charges will be applied on GP, which will squeeze the business growth of the leading mobile phone operator in Bangladesh.
In the last three months, GP's share dropped around 20 percent to Tk 337. GP is the largest stock on the DSE with a market capitalisation of Tk 47,233 crore.
This is not the first time such lack of coordination has surfaced, the official of the brokerage house said.
In 2015, the energy regulator slashed the distribution charges of Titas Gas. As a result, the state-run gas utility lost more than Tk 3,000 crore in market value in the five months to February 2016, he said.
"These types of sudden decisions affect foreigners' confidence to a great extent."
The depreciation of the taka against the US dollar is another reason that caused the foreign portfolio investment to fall since March.
According to Bangladesh Bank data, the inter-bank exchange rate stood at Tk 84.50 per USD on Thursday, up from Tk 82.97 a year ago.