Energy price hike: Likely rise in potato storage rent worries Jashore traders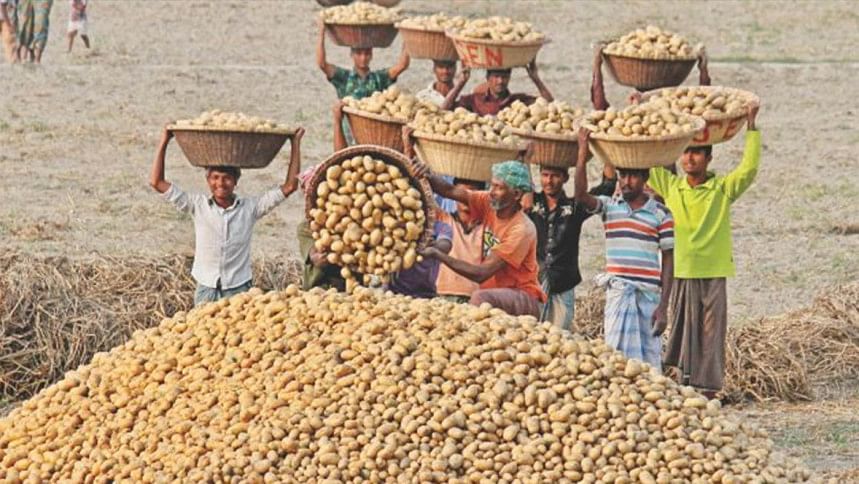 Potato farmers and traders of Jashore and surrounding areas are worried as cold storage owners in the region have hinted at raising storage rates following the hike in energy price.
According to storage owners, they are discussing a new strategy to lessen the cost burden stemming from the rising electricity costs. This new strategy may include storing fewer potatoes at an increased rent, said Abdur Rahim, owner of a cold storage in the Jashore region.
"Although there is a rule to charge Tk 240-250 per month for storing 60-65 kgs of potatoes from March to November, the owners have indicated that they intend to increase the price by 20 percent," said Abdul Majid, a potato farmer of Shahabajpur area of Jashore Sadar upazila, who has been looking to book a unit in a cold storage facility.
A final, official decision by the cold storage owners' association of Jashore regarding the matter is yet to come. But the talk of higher rent has stirred uncertainty among the potato farmers and traders.
Cold storages in the region usually start operating from the first day of March every year. From that day, potato growers and traders can store their product in the facilities.
There are 14 cold storages in Jashore region -- 11 in Jashore, three in Khulna and two in Satkhira. The total storage capacity in these units is about 80,000 tonnes of potatoes.
Jashore is known to yield large amounts of potatoes along with other vegetables. This season, different varieties of potatoes have been cultivated in about 14 thousand hectres of land in the region, according to agricultural department sources.
About 45 percent of the total crop has already been harvested from potato fields of the eight upazilas of Jashore, said Manjurul Alam, deputy director of the District Agriculture Extension Department.
"This year there has been an increased yield of potatoes, due to sufficient cold in the winter, which is necessary for potato cultivation," said farmer Abdul Majid.
The price of potato is somewhat low in the current market and farmers are afraid that it will fall further soon. That is why Abdul Majid wants to store his yield to sell them later at a better price, he added.
Shahidul Islam, another potato farmer in Khatbaria of Jhikorgacha, said farmers have been counting losses every year due to the lack of cold storages in the region. If the rent increases, their sufferings will too.
Aktaruzzaman, manager of Rupdia Cold Storage, said that potatoes will be kept in their cold storage from March.
"Since the cost of electricity and fuel have increased, the rent will increase this time. The owners will sit down and take a decision soon."
Abdul Ghafoor, the owner of Janata Bhandar, a potato store in Jashore's Jhikargacha, said, "We have come to know that the storage owners are deciding to keep the weight down along with increasing the rent in the cold storage this year. If this is implemented, we the traders will be affected along with the farmers and consumers."
He added that his fellow shopkeepers also plan to sit with the storage owners to discuss the issue.
"Due to high yield this year, some farmers are storing potatoes at home with special arrangements. Necessary advice is being given to the farmers in this regard," said Manjurul Alam, deputy director of the District Agriculture Extension Department.
The government on January 31 increased the electricity price once again by five percent at the retail level -- the second hike in 19 days.
The current weighted average price of electricity is Tk 7.82 per kilowatt hour, up from 7.13 kWh, according to the government circular.